Proton Therapy at PSI
Protons are especially effective for this purpose, because they release their greatest energy in the depths of the body, within the tumor itself.


Number of patients
Since 1984 more than 7200 patients with ocular melanomas have been treated at PSI. This places PSI among the centers with the largest experience with treatment of this rare disease worldwide. Since 1996 more than 1500 patients from all over Europe have been treated at our Gantrys, of which more than 500 were children or adolescents at the time. These patients were suffering from brain, skull-base or spinal cord tumors, or sarcomas.


History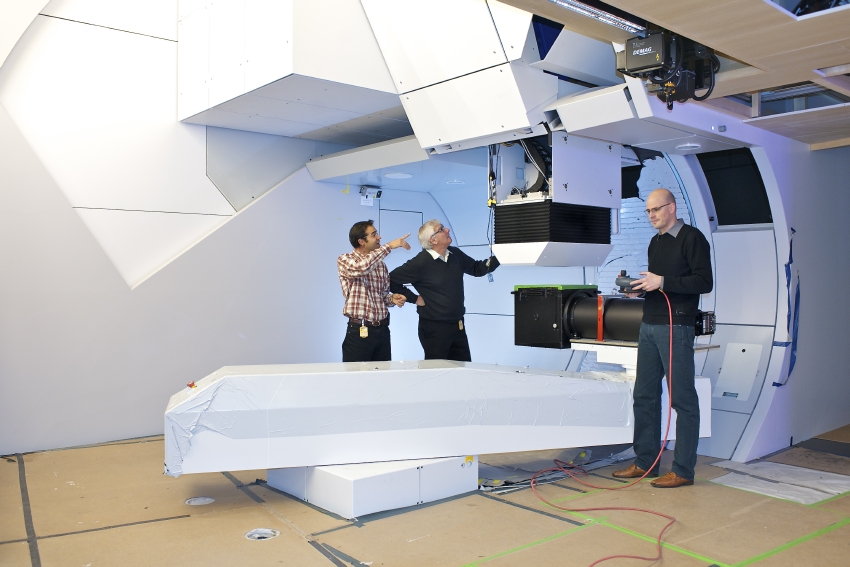 zoom

Gantry 2 during installation and calibration

The success of the ocular proton therapy and the spot-scanning technique developed at PSI for deep-seated tumors have generated great international interest. Therefore, in 1998 the directorate of the institute began developing strategies to extend the scope of proton therapy at PSI. It was decided to support further research and development towards transforming the institute's innovative technologies, under collaboration with industrial partners, into a marketable product (PROSCAN Project). Within the framework of PROSCAN, a new accelerator designed specifically for medical applications, the so-called COMET cyclotron, was installed. This superconductive 250 MV cyclotron fulfilled PSI's rigorous specifications and since its launch in 2007 has enabled the year-round operation of the treatment center. Based on the further development of Gantry 1, the new Gantry 2 is fitted with more advanced options and began treating patients in November 2013. The ultrafast scanning technology developed by PSI for Gantry 2 further enhances the technological lead of PSI in proton therapy. A third Gantry with the technical features and performance similar to Gantry 2 started patient operation in July 2018.



The continuous advancement in proton therapy has been funded by PSI itself, by sponsors and benefactors, as well as by technology transfer licenses from industry. PSI specialists put their long years of technical and clinical experience into further practice by advising clinics during their specification and purchasing phases and during the installation and operation of proton therapy facilities. As a leader in R&D of proton therapy technology, PSI also provides advanced training and education in all areas of proton therapy. Meanwhile, the PSI team has gained over 30 years of experience in tumor treatment with proton therapy.