1. December 2009
Service to the scientific community
Matter and Material
Research Using Synchrotron Light
Research Using Muons
Research Using Neutrons
Large Research Facilities
Particle Physics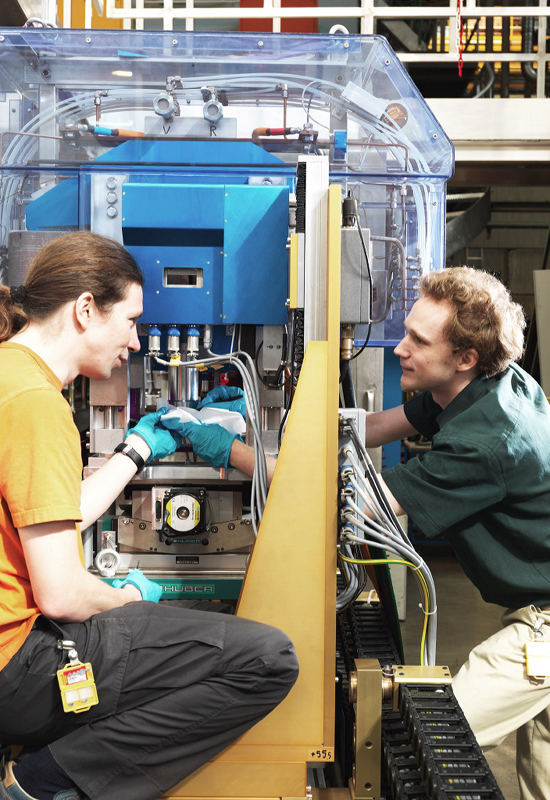 zoom
Jochen Stahn (PSI) and Justin Hoppler (University of Fribourg and PSI) at PSI's neutron reflectometer
PSI's large scale facilities are open to external scientists

Neutrons, synchrotron light and muons are very useful for researchers in a variety of disciplines. Using these probes, we can determine the structure of crystals, they help us understand magnetic processes, or they can reveal the structures of biological materials. However, producing these probes is so difficult that most research groups will not have a neutron, muon or synchrotron-light sources at their own scientific centres.

In order to ensure that as many researchers as possible have access to neutrons, synchrotron light and muons, PSI operates the appropriate large-scale facilities SINQ, SLS and SμS, and provides access to these facilities to researchers from PSI as well as to external scientists from Switzerland and other countries who need these probes for their own research. The combination of facilities provided by PSI can be found at only one other location in the world.
Beam time is allocated to the best scientific projects

Any scientist hoping for solutions to his or her scientific problems from experiments with neutrons, muons or synchrotron light can apply for beam time at PSI. To apply, he or she has to submit a proposal describing the scientific problem, the intended experiment and the expectations from the results. It is then the task of committees made up of international experts to check the scientific quality of the proposals and to suggest to PSI which applicants should actually receive beam time. Approximately one half to two-thirds of all proposals are accepted.

Beam time is free to all users from scientific and academic institutions – in the same way that Swiss researchers can perform experiments free of charge at research facilities in other countries. Users from industrial companies, on the other hand, have to buy beam time at PSI in a special procedure in order to use it for their own applied research.
---