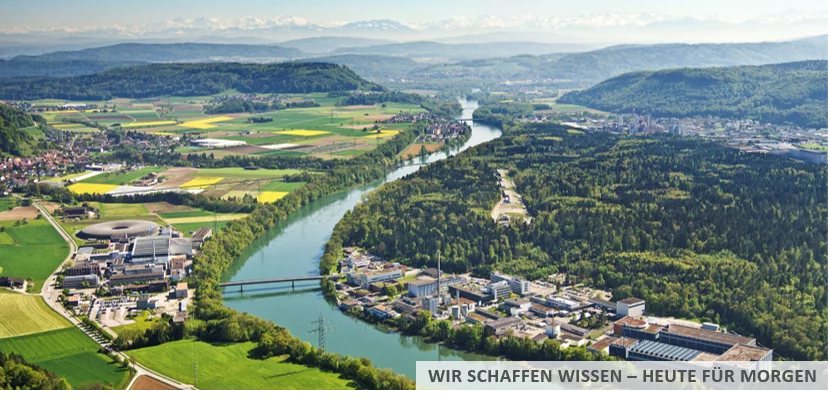 How to find us
Paul Scherrer Institut  is located in northern Switzerland, approximately midway between Zürich and Basel. The nearest towns and railway stations are Baden and Brugg. Frequent air and train connections via Zürich or Basel are available from all major European cities.
The PSI Education Center is centrally located on the PSI East site, directly opposite the OASE restaurant. It is publicly accessible and easily accessible by various means of transportation. The school administration office is located on the first floor, office OSGA/EG7.
---
To reach PSI by car
Programming of the navigation system:

For PSI East: enter city "Würenlingen", street "PSI"
It is permitted to use the connecting road across the river Aare.
GPS-coordinates
N 47° 32.317'
E 008° 13.808'
You can reach PSI via Brugg or Baden.
Useful link: Google Maps
 
Via Brugg:
Follow the Koblenz–Zurzach signs through Brugg. After passing through Lauffohr and a short hill, branch off to the left towards Remigen/Villigen; then after about 500 m turn right towards Villigen. Approximately 1 km after leaving Villigen you will reach PSI West. You can drive to PSI East via the bridge over the river Aare.

Via Baden:
Follow the Koblenz–Zurzach signs through Baden. Drive through Nussbaumen, Untersiggenthal and Station Siggenthal. Approximately 1.5 km beyond the roundabout, follow the sign left towards PSI at the crossroads and you will reach PSI East.

Parking facilities:
There is a parking lot directly next to the Education Center as well as on the opposite side next to the staff restaurant or in front of the main entrance. The parking fee is Fr. 6.00 per day. Tickets can be obtained from the ticket machines (near staff restaurant or main entrance).
Charging stations for electric vehicles are available on the PSI site East in front of the main entrance. Are you traveling with the whole school class? Two free parking spaces are available for coaches.
---
To reach PSI by public transport
Brugg is on the train line (Zürich–Basel, Zürich–Bern). You can take a public bus (Postauto) from Brugg railway station. Take the Brugg–PSI–Böttstein–Döttingen bus, and within 20 minutes you will arrive at PSI. The bus stop "Villigen PSI Ost" is only a few minutes' walk from the Education Center.
---
When you land at the airport
There is an SBB railway station at the International Airport at Zürich-Kloten. Take the train to Brugg and a public bus (Postauto) from Brugg railway station to Villigen PSI.
---
Accommodation
PSI operates a guest house to provide local and convenient accommodations for its on-site visitors. The guest house is located in the western part of the PSI campus and has 53 single and 11 double rooms. Reservations: Phone +41 56 310 32 22, e-mail: hostel@psi.ch.
Other nearby hotels
---
Catering options
The Oase staff restaurant is also open to our course participants for break and lunch. Three freshly cooked menus are offered daily, as well as a large selection from the salad or hot buffet. The staff restaurant is located just a few steps across the street from the Education Center.
---
---
Access for participants with impairments
The PSI Education Center has a wheelchair accessible elevator. A disabled parking space is located in front of the visitor center just a few meters away. We will be happy to assist you in planning your journey and answer any questions you may have about the infrastructure on site.
We are committed to making access to our courses as barrier-free as possible for everyone. If possible, we help participants with audiovisual impairments to find an interpreter. Requests for compensation for disadvantages should be addressed to the school administration's office.
---