Visit the researchers – The Visitor Centre of the Paul Scherrer Institute
Meet researchers at work, be fascinated by the exhibits and immerse yourself completely in the research topics of PSI. The PSI Visitor Centre is your gateway to the world of science.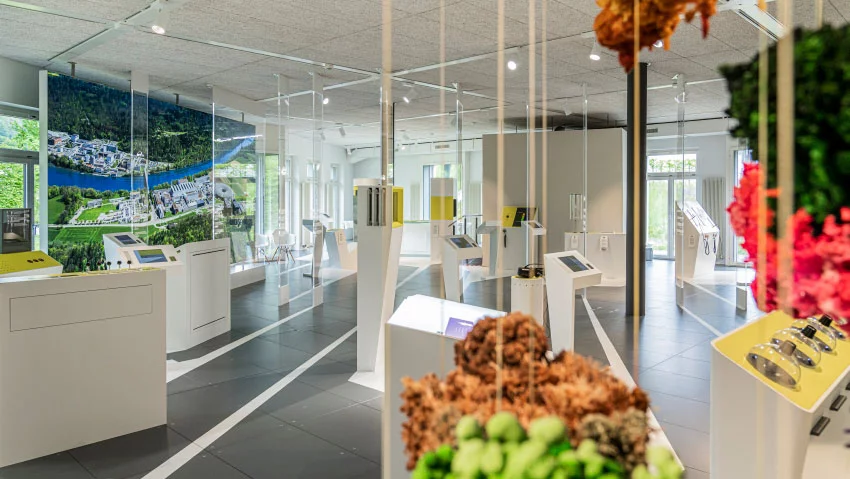 What are these extraordinary buildings on the grounds of the Paul Scherrer Institute? Who are the PSI researchers and what are they working on? What does a large research facility look like from the inside?
These questions are answered in the exhibition "Visit the researchers" in the PSI Visitor Centre. Step on the floor marking at the entrance to the exhibition and start your own personal visit with researchers. The various research areas of PSI come to life on 13 thematic islands. A researcher will give you an insight into his or her working environment in the form of a film portrait, explaining his or her work at the Paul Scherrer Institute and the corresponding research focus. The exhibits in the individual thematic islands each illustrate a specific aspect of the work of the researchers presented.
Discover the exhibition individually and according to your interests.
---
Exclusive 3D films enhance your visit. "The Universe and Back Again" shows the new, large research facility, the Swiss X-Ray Free-Electron Laser SwissFEL. Aliens from a distant galaxy land at PSI. They need the SwissFEL in order to rid their planet of air pollution. You can also travel "Around the World in 80 Million Years" and learn more about the carbon cycle. During a "Journey to the Heart of Matter" find out about elementary particles after the Big Bang and accompany them through our accelerator facility.