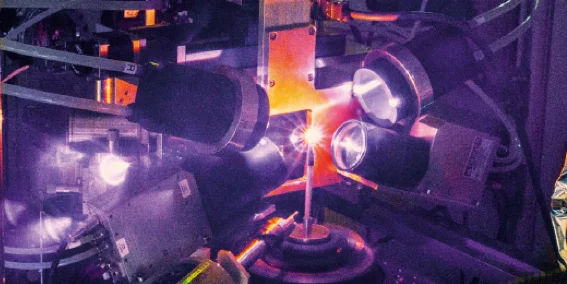 TOMCAT - X02DA: Tomographic Microscopy
A beamline for TOmographic Microscopy and Coherent rAdiology experimenTs

The beamline for TOmographic Microscopy and Coherent rAdiology experimentTs (TOMCAT) [1] is operated by the X-ray Tomography Group and offers cutting-edge technology and scientific expertise for exploiting the distinctive peculiarities of synchrotron radiation for fast, non-destructive, high resolution, quantitative investigations on a large variety of samples. Absorption-based and phase contrast imaging are routinely performed with isotropic voxel sizes ranging from 0.16 to 11 μm (fields-of-view (h x v) of 0.4 x 0.3 mm2 and 22 x 3-7 mm2, respectively) in an energy range of 8-45 keV. Phase contrast is obtained with simple edge-enhancement, propagation-based techniques [2, 3] or through grating interferometry [4]. 

Typical acquisition times are on the order of seconds to a few minutes. However, dynamic processes can be followed in 4D (3D space + time) using the ultra-fast endstation, which provides sub-second temporal resolution [5] for extended time periods thanks to the in-house developed GigaFRoST system [6]. A laser-based heating system [7] and a cryojet and cryo-chamber are available as standard installations and are compatible with both the standard and ultra-fast endstations. It is also possible to bring specialized, user-defined instrumentation to TOMCAT. Please contact beamline staff in advance to discuss this option. 

A temporal resolution of a few (< 5) minutes can also be achieved with the hard X-ray full-field microscope setup [8] delivering a pixel size of 65 nm for microscopic samples (~75x75 μm2 field-of-view).

3D tomographic datasets are reconstructed from 2D projections using highly optimized software [9, 10] based on Fourier methods and a user-friendly interface (i.e., an ImageJ plug-in). Remote access to a flexible HPC facility is available for subsequent advanced post-processing and data quantification. A suite of analytical and iterative reconstruction routines is provided, additional ad-hoc tools can be easily installed by the single user.
Energy range
8-45 keV
Highest 3D spatial resolution
ca. 1 μm in parallel beam geometry
ca. 200 nm in full-field geometry
Max. temporal resolution
20 Hz
Available techniques
- Absorption-based tomographic microscopy
- Propagation-based phase contrast tomographic microscopy
- Ultra-fast tomographic microscopy
- Grating interferometry
- Absorption and phase contrast nanotomography
Available devices for in situ sample conditioning
- Laser-based heating system
- Cryojet and cryo-chamber
Scientific Highlights
---
News
---
References