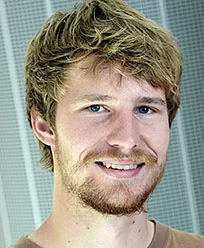 Post-Doc, Laboratory for Neutron and Muon Instrumentation
Paul Scherrer Institute
Forschungsstrasse 111
5232 Villigen PSI
Switzerland
---
---
CV
Since Oct 2017
Postdoctoral research associate
Laboratory for Scientific Developments and Novel Materials &
Laboratory for Micro and Nanotechnology, Paul Scherrer Institut
Oct 2013-Sep 2017
PhD student
Ultra Low Temperature group, Lancaster University, UK
Jan 2009-Jun 2013
Research Assistant
Institute of Scientific Instruments of the CAS, Brno, CR
Feb 2012-Aug 2012
Intern
Institut NEEL, Le Centre national de la recherche scientifique, Grenoble, FR
Sep 2008-Jun 2013
Masters & Undergraduate Studies
Physical Engineering and Nanotechnology, Brno University of Technology, CR
Research interest
Condensed matter and low temperature physics.
Scientific instrumentation development and cryogenic engineering.

Honors and awards
| | |
| --- | --- |
| 2010 | GE Foundation Scholar-Leaders Program, Czech Republic Alumni |
| 2010 - 2011 | Brno University of Technology Scholarship, for excellent studying results |
Publications
Probing Liquid 4He with Quartz Tuning Forks Using a Novel Multifrequency Lock-in Technique.
Bradley, D.I., Haley, R.P., Kafanov, S., Noble, M.T., Pickett, G.R., Tsepelin, V., Vonka, J., & Wilcox, T.
Journal of Low Temperature Physics, 184(5-6), 1080–1091. (2016)
Low conductive support for thermal insulation of a sample holder of a variable temperature scanning tunneling microscope.
Hanzelka P., Vonka J., & Musilova V.
Review of Scientific Instruments, 84(8), 085103. (2013)
Thermal conductivity of a Cu-CrZr alloy from 5K to room temperatures.
Hanzelka, P., Musilova V., Kralik T., & Vonka J.
Cryogenics, 50(11), 737–742. (2015)