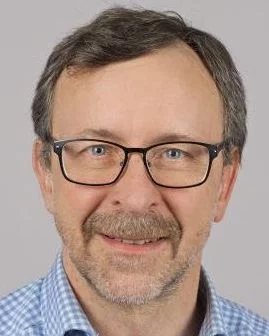 Head of Advanced Nanomanufacturing Group (ANaM) and Consultant Research Integrity
Paul Scherrer Institut
Forschungsstrasse 111
5232 Villigen PSI
Switzerland
---

The Advanced Nanomanufacturing (ANaM) Group is part of the Laboratory of Nano and Quantumtechnology (LNQ). As the former Polymer Nanotechnology Group (INKA-PSI), ANaM is aiming to provide solutions for different applications of polymer surfaces, by modifying surfaces by patterning, exposure, thermal treatment and coating. Current examples are supersmooth surfaces for micro-optics, surfaces with controlled wetting for printed electronics, surfaces with antireflective, antiadhesive, antifriction properties, modifying channel geometries for micro- and nanofluidics. The applications range from fundamental research with large scale fabilities to industrial products.
Biography
Helmut Schift studied electrical engineering at the University of Karlsruhe, and performed his Ph.D. studies at the Institute of Microtechnology Mainz (IMM), Germany. He has specialized in micro-optics, high aspect ratio lithography and polymer replication (LiGA technology). After his graduation in 1994, he joined the Paul Scherrer Institute as research staff member, where he has subsequently built up and established a technology platform for nanoimprint lithography (NIL). As one of the pioneers, H. Schift developed enabling techniques for the patterning of functional surfaces with topological and chemical surface contrast, and used these processes in different research and application fields. Since 2001, he is Lecturer at the University of Applied Sciences and Arts (Fachhochschule) Nordwestschweiz for engineering students on "Micro- and Nanotechnology". In 2002, he became head of the Polymer Nanotechnology Group (INKA-PSI). During a sabbatical in 2011, he was employed as a visiting professor (Velux grant) in the Optofluidics group in the Department of Micro- and Nanotechnology at the Danish Technical University (DTU). H. Schift is a co-author of 140 scientific papers, including reviews and book chapters, and editor of the NaPa Library of Processes. He has supervised many scientific projects and participated in several PhD juries. In the European FP7 NaPANIL project (2008-2012), H. Schift was sub-project leader with over 1000 person months. He received the Swiss Technology Award (2005, Sonderpreis Ostschweizer Kantone) and Nanoimprint Pioneer Award (2016). In 2016 he was recognized by the AVS Journal of Vacuum Science and Technology as one of its Most Valuable Reviewers. Since 2019, H. Schift is Consultant on Research Integrity (30%) at PSI. For this purpose, in 2021, he completed MAS studies of Applied Ethics at the University of Zürich.
Institutional Responsibilities
As head of the Advanced Nano Manufacturing, H. Schift is responsible for the development of enabling techniques for various projects with academic and industrial partners. From 2006-2020 this has been in the framework of the Institute for Polymer Nanotechnology INKA (a "joint venture" between PSI and the University of Applied Sciences and Arts Nordwestschweiz FHNW), and since 2020 for the new center for technology transfer ANAXAM (Angewandte Materialanalytik mittels Neutronen- und Röntgenstrahlung), which is directed towards Advanced Manufacturing and Applied Research for Large Scale Facilities. As Consultant for Research Integrity, H. Schift assures internal and external information exchange, supports and organizes training on ethical conduct in research and consults PSI personnel on all levels.
Scientific Research
At PSI, nanoimprint lithography (NIL) has become a key manufacturing technology in a range of applications in the area of nano-electrodes, nano-sieves, photonic crystals, liquid-crystal displays, micro- and nano-optics etc. The developments also comprise surface energy related topics such as antiadhesive coatings, chemical patterning of surfaces, hierarchical and hybrid structuring, 3D surface patterning and upscaling using fast imprint processes, roll-to-roll imprint and injection molding. The polymer nanotechnology group contributed via development of technology, tools, and processes, i.e. the full toolbox for replication processes needed for academic research and industrial applications. This toolbox is further enlarged within the framework of the Institute for Polymer Nanotechnology (INKA) and via collaborations with industry and research partners on national and international level, including the technology transfer center ANAXAM. In the future InnoFab, the PSI cleanrooms for Micro- and Nanomanufacturing, NIL and 3D surface patterning are key technologies for the further development of X-ray optics, micro- and nanofluidics, membrane holders for protein crystallography, micro- and nano-optics and quantum chips for "beyond-Moore" information technology.
Selected Publications
For an extensive overview we kindly refer you to our publication repository DORA.
---
Bend the curve – shape optimization in laser grayscale direct write lithography using a single figure of merit, J. Erjawetz, D. Collé, G. Ekindorf, P. Heyl, D. Ritter, A. Reddy, and H. Schift, Micro- and Nanoeng. 15, 100137 (2022).
Hybrid structures by direct writing lithography – tuning the contrast and surface topography of grayscale photoresist with nanoimprint, S. Xie, J. Erjawetz, C. Schuster, and H. Schift, J. Vac. Sci. Technol. B 39, 052603 (9 pp) (2021) – EIPBN 2021 Best Journal Paper Award - Winner (2022).
Direct writing using a 405 nm scanning laser enabled us to get into 3D application fields that could not be accessed with binary lithography. The grayscale ability of the DWL 66+ from Heidelberg Instruments GmbH creates unique opportunities due to its high throughput, good resolution and high flexibility. It was purchased in the framework ANAXAM to enhance PSI's capability in additive and 3D manufacturing.
Sub-micron silver wires on non-planar polymer substrates fabricated by thermal nanoimprint and back injection molding, S. Xie, B. Horváth, J. Werder, and H. Schift, Micro and Nano Eng. 8, 100062 (2020).
Fabrication of large area sub‐200 nm conducting electrode arrays by self‐confinement of spincoated metal nanoparticle inks, B. Horváth, B. Křivová, S. Bolat, and H. Schift, Adv. Mat. Technol. 3(4) 1800652 (11 pp) (2019).
In the framework of the Special Focus Area project FOXIP, INKA-PSI develops new solutions for flexible printed electronics. Several publications demonstrate new findings on nanopatterning via nano-particle ink confinement. In particular, the fabrication of sub 200 nm lines from silver inks with 50 nm particles shows that low-cost methods and materials can be used for the fabrication of line widths much smaller than typically achieved by printed electronics.

Thermal reflow of polymers for innovative and smart 3D structures: A review, R. Kirchner and H. Schift, T, Mat. Sci. Semiconduct. Proc. 92, 58-72 (2019).
Selective surface smoothening of polymer microlenses by depth confined softening, N. Chidambaram, R. Kirchner, R. Fallica, L. Yu, M. Altana, and H. Schift, Adv. Mater. Technol., 1700018 (10 pp) (2017).
For future devices, 3D lithography becomes a highly relevant pattern technique that goes beyond the capabilities of  binary lithography. We have development new solutions for ultrasmooth surfaces in the sub-micron range for diffractive optical elements and micron range for micro-optics. In particular sub-10 nm roughness was achieved by using selective modification of polymer surfaces and confined thermal reflow, by exploiting the characteristic behavior of PMMA.
High-aspect-ratio nanoimprint process chains, V.J. Cadarso, N. Chidambaram, L. Jacot-Descombes, and H. Schift, Microsystems & Nanoengineering 3, 17017 (12 pp) (2017).
Nanoimprint lithography: 2D or not 2D? A review, H. Schift, Applied Physics A 121(2) 415-435 (2015).
Nanoimprint lithography is a next generation lithography method with capabilities beyond standard resist processing techniques. It opens lithography up to a variety of materials and is not limited by optical diffration, thus enabling single-digit resolutions. By patterning high aspect ratio structures and 3D surface topographies, nanoimprint lithography goes beyond normal lithography and opens the way for novel sensors and devices.
Integrated photonic nanofences: combining subwavelength waveguides with enhanced evanescent field for sensing applications, V.J. Cadarso, A. Llobera, M. Puyol, and H. Schift, ACS Nano 10, 778–785 (2016).
Novel sensor concepts using state-of-the-art photonics are employed for the fabrication of chemical sensors with high sensitivity, by enhancing the evanescent field and thus the interaction of light with the chemical compounds to be mesured.
Books and Book Chapters
Book chapters belong to an "old format" of collecting and presenting a specific technology with a specific focus, which should be more systematic and go beyond the state-of-the-art. I was happy to present nanoimprint lithography as a novel fabrication technology from different views: as a basic technology, as an ecosystem for manufacturing, and for specific application. In this sense, it is more a service to the community and facilitates to get an overview that is helpful to understand the overall implication of a new technology. This goes beyond review papers that are typically shorter and more scientific.
Imprint lithography, Chapter (11) in Microlithography, D. Resnick and H. Schift, third edition, eds. B. Smith and K. Suzuki, CRC Press, Francis and Taylor, pp. 594-675, May 21, 2020, ISBN 9781439876756.
Nanoimprint lithography - patterning resists using molding. H. Schift and A. Kristensen, Chapter (Part A/9) in Handbook of Nanotechnology, Vol. ed. B. Bhushan, fourth edition, Springer Verlag Berlin Heidelberg, Germany, 271-312 (2017). ISBN: 978-3-642-02524-2.
Nanostructured polymers for medical applications, P. Urwyler and H. Schift, Chapter in Nanoscience and Nanotechnology for Human Health, Eds. B. Müller and M. Van de Voorde, First Edition, Wiley-VCH Verlag GmbH & Co. KGaA, 3, 293-314 (2017), ISBN: 978-3-527-33860.
NaPANIL library of processes – nanopatterning, production and applications based on NanoImprinting Lithography, third edition. Editor H. Schift, published by the NaPANIL-consortium (2014).
Nanoimprinting technology for biological applications, S. Park and H. Schift, Chapter in BioMEMS and biomedical nanotechnology, ed. M. Ferrari, Vol-4 "Biomolecular Sensing, Processing and Analysis", Vol. eds. R. Bashir, S. Wereley, Springer Verlag, Berlin, Germany, 95-117 (2007). ISBN: 978-0-387-25561-3.
Roll embossing and roller imprint, H. Schift, Chapter (5) in "Science and new technology in nanoimprint". Volume editor Y. Hirai. Frontier Publishing Co., Ltd., Japan, ISBN4-902410-09-5, English 74-89, Japanese translation (extract) 90-93 (2006).
Nanorheology - squeezed flow in hot embossing of thin films, H. Schift and L.J. Heyderman, Chapter (4) in Alternative lithography – unleashing the potential of nanotechnology. Vol. ed. C. Sotomayor Torres, book series on Nanostructure Science and Technology in Kluwer Academic/Plenum Publishers, ed. D.J. Lockwood, 46-76 (2003). ISBN 0-306-47858-7
In addition to book chapters, nanoimprint lithography is presented online at the NanoPedia webpage.
---
---
---