Scientific Highlights and News
Welcome to Sri Vasudha Hemadri Bhotla!
SNI 2023 Best Poster Award for Alessandro Bruno!
Congratulations to Alessandro for winning the award for the best poster at the Swiss Nanoscience Institute 2023 annual meeting!
Congratulations to Michael Bruno for successfully defending his semester project!
Welcome to Otto Schmid and Frederik van der Brugge!
Nicholas Kurti prize ceremony at Oxford University
New group member
Welcome to Preeti Pandey who is joining us as a postdoctoral researcher!
Congratulations to Tristan Kuttner for successfully completing his Master thesis!
---
Alex wins 2022 Nicholas Kurti prize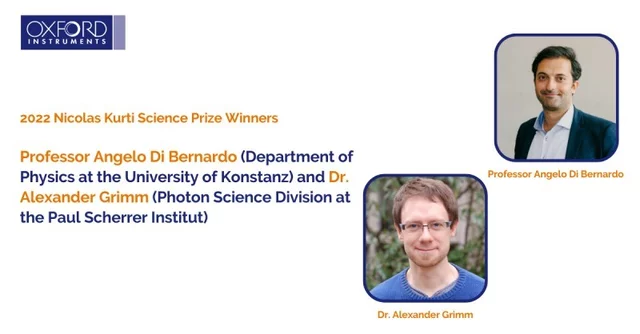 We are happy to announce that Alex has been awarded the 2022 Nicholas Kurti Science prize. The prize recognises his work on non-linear effects in Josephson junctions for quantum information processing.
The objective of the Nicholas Kurti Science Prize is to promote and recognise the novel work of young scientists working in the fields of low temperatures and/or high magnetic fields in Europe. Read the full press release and interview here and here.
Goodbye to Emre
Emre Vardar has finished his internship with us. Thank you Emre and we wish you all the best for your future!
---
---