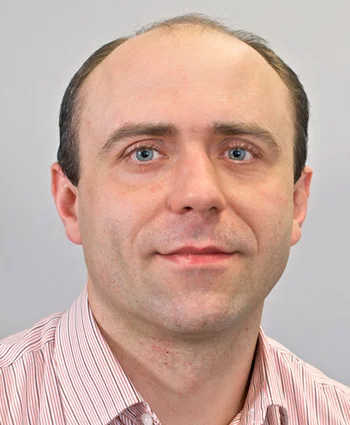 Wissenschaftlicher Mitarbeiter
Paul Scherrer Institute
Forschungsstrasse 111
5232 Villigen PSI
Switzerland
CV
Vitaliy Guzenko is staff scientist within the Photon Science division. He studied physics at Taras Shevchenko National University of Kiev. In 2002 he obtained his PhD degree from RWTH Aachen University with a thesis on electrical transport in superconductor/2DEG weak links. For the further six years as a postdoc, he conducted his research at Research Centre Jülich addressing the collective effects in low-dimensional electron gases in III-V semiconductors. During this time he collected a valuable experience in micro- and nanofabrication techniques. Since 2008 he is the technical leader of e-beam lithography at Paul Scherrer Institute. His research is focused on development and optimization of the high-resolution lithography techniques. Since Aug 2019 he is leading ad interim the Nanotechnology and Cleanroom infrastructure group.
Research
Operation and management of the high resolution e-beam lithography lab.
Training and nanotechnology consulting of the clean room users.
Participation in x-ray optics manufacturing projects.
Providing nanofabricaiton services to external researcher groups and industrial customers.
Publications
For the full list of publications please visit