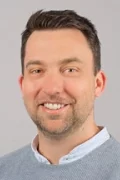 Paul Scherrer Institut
Forschungsstrasse 111
5232 Villigen PSI
Switzerland
I am fascinated by all things related to atmospheric aerosols. My research adds to our knowledge of aerosol-related climate and weather impacts, and contributes to a better understanding of how aerosol pollution damages human health. One of my main areas of expertise is aerosol optics, including the measurement and modeling of absorbing aerosols such as black carbon in both laboratory and field settings. I have a keen interest in state-of-the-art data science and machine learning methods and how these can be applied to aerosol-related problems. In recent years I have worked extensively on aerosol health effects; in particular, the identification of toxic aerosol types through online measurements of aerosol oxidative potential.
 
Main research projects and interests
Investigation of aerosol health effects through targeted studies of aerosol oxidative potential (SNSF project)
In situ measurement and modeling of aerosol optical properties, with a particular focus on absorbing aerosols (ACTRIS, EUROCHAMP).
Bridging the gap between in situ and remote sensing observations of atmospheric aerosols (BISAR project)
Characterization of black carbon particles with the Single Particle Soot Photometer (SP2)
Field measurements of aerosols and clouds (e.g. AC/BC project: black carbon measurements in the air and clouds at Zeppelin Observatory, Svalbard)
Measurement of aerosol-cloud interactions
Sea spray and other marine aerosols
Other sites
CV
Professional experience
- 2020 -- current: Tenured staff scientist in the Aerosol Physics Group, Laboratory of Atmospheric Chemistry, Paul Scherrer Institute, Switzerland
- 2016 -- 2020: Tenure-track scientist in the Aerosol Physics Group, Laboratory of Atmospheric Chemistry, Paul Scherrer Institute, Switzerland
- 2012 -- 2016: Postdoctoral research scientist in the Atmospheric Particle Research Laboratory (APRL) at the Ecole Polytechnique Federale de Lausanne (EPFL), Switzerland (adviser: Prof. Satoshi Takahama)
- 2010 -- 2012: Postdoctoral research scientist at Scripps Institution of Oceanography, University of California San Diego, USA (adviser: Prof. Lynn Russell)
Education
- 2007 -- 2010: PhD Physics at the Queensland University of Technology, Australia. Thesis title: Investigation of the effect of organics on the water uptake of marine aerosols (supervisor: Prof. Zoran Ristovski)
- 2002 -- 2005: B.App.Sci with Honours in Physics from Queensland University of Technology, Australia
Recent publications