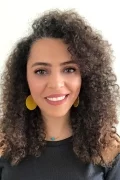 Paul Scherrer Institut
Forschungsstrasse 111
5232 Villigen PSI
Switzerland
About
I am an atmospheric scientist, expert in new particle formation from field observations and chamber measurements. I received my Masters degree in atmospheric chemistry in Beirut, Lebanon in 2014 and my PhD in atmospheric physics in Helsinki, Finland in 2019. I later moved to Switzerland for a postdoc position at EPFL, Sion, Switzerland in 2021. I am currently working as a scientist in the Atmosphere-Biosphere-Interactions group within LAC at PSI. 
Research Focus
At LAC, my focus has been on how natural emissions from vegetation affect aerosol particles, their formation, growth and contribution to clouds. For understanding these phenomena, I relied on long-term observations from multiple places around the world, including but not limited to, forests (Hyytiälä, Finland), remote locations (Central Arctic Ocean, Marambio in Antarctica and Mt. Everest in Nepal), Megacities (Beijing, China and New Delhi, India), as well as rural and urban locations in Switzerland, Lebanon, Hungary, Spain, Italy, Cyprus, Saudi Arabia, Jordan and so on. My latest publication focused on the contribution of agriculture to forming aerosol particles and hence cloud seeds in the atmosphere. 
At the same time, I designed and performed experiments simulating our atmosphere in a gigantic chamber (CLOUD) at the European nuclear research center (CERN) in Geneva, to understand the reactions between the naturally emitted organic vapours and oxidants on a molecular level and quantify their contribution to aerosol and cloud formation. The most recent experiments show how a group of molecules namely 'Sesquiterpenes' are capable of forming much more particles and hence cloud seeds than thought before. 
In addition, I am currently a volunteering scientific mentor within the Environment Academy initiative in Beirut, Lebanon. My role has been to empower communities in Lebanon most affected by environmental breakdown via bringing my scientific knowledge into play with the local communities in villages to improve their air quality via forestation. 
My next research step (2024 - 2027) is dedicated to quantify the primary biological particle emissions, be it pollen grains, plant debris, bacteria.. etc. in several locations in Europe. For tackling this research, I have been awarded an SNSF Ambizione grant, for my proposal entitled 'BioPSI: Biological Particles Sources and Impacts'. 
Find me
Publications