Molecular Nanoscience
PEARL beamline of the Swiss Light Source.

Currently our main interest is concentrated at controlling spins in adsorbed molecules by chemical and/or physical switches. We perform in-depth studies of various molecule-switch combinations in order to understand the mechanisms ruling the magnetic response. Density Functional Theory (DFT)+U calculations performed by our collaborators (see below) give a very important input to achieve this goal.


News and Highlights
28 May 2018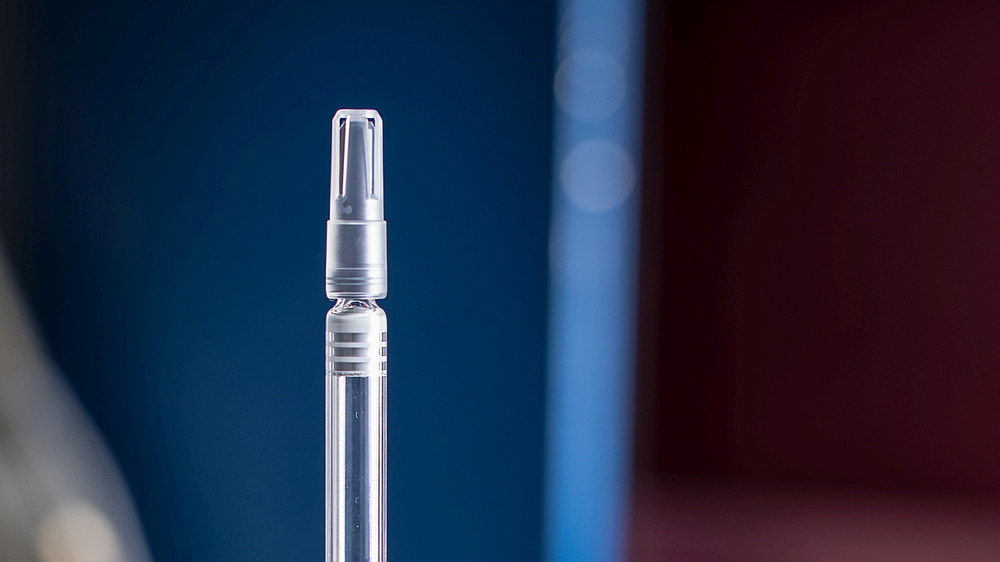 Media Releases
Human Health
Research Using Neutrons
Researchers from the Paul Scherrer Institute PSI, the University of Basel and Roche have used neutron imaging to investigate why cool storage is crucial for syringes pre-filled with a liquid medication.
22 May 2017
For the first time, researchers have produced a wafer-thin ferrimagnet, in which molecules with different magnetic centers arrange themselves on a gold surface to form a checkerboard pattern. Scientists at the Paul Scherrer Institute, in collaboration with their research partners, published the findings in the journal
Nature Communications
.
Research Areas
Current research areas

Earlier research topics
Mechanics at Nanoscale

Organic Monolayers on Ultrathin Insulators
Subphthalocyanine
Pentacene on Copper
Our Research Team
---
Facilities
PEARL* beamline of the Swiss Light Source.
Related facility instrumentation
---
Collaborations
---
Selected Publications
Long-range ferrimagnetic order in a two-dimensional supramolecular Kondo lattice
Girovsky J, Nowakowski J, Ali MdEhesan, Baljozovic M, et al.
Nat. Commun. 8, 15388 (2017)


Surface science at the PEARL beamline of the Swiss Light Source
Muntwiler M, Zhang J, Stania R, Matsui F, et al.
J. Synchrotron Rad. 24, 354 (2017)


Device Simulations on Novel High Channel Mobility 4H-SiC Trench MOSFETs and Their Fabrication Processes
H. R. Rossmann, A. Bubendorf, F. Zanella, N. Marjanović, et al.
Microelectron. Eng. 145, 166 (2015)


Interplay of weak interactions in the atom-by-atom condensation of xenon within quantum boxes
S. Nowakowska, A. Waeckerlin, S. Kawai, T. Ivas, J. Nowakowski, et al.
Nat. Commun. 6, 6071 (2015)


Antiferromagnetic coupling of Cr-porphyrin to a bare Co substrate
J. Girovsky, K. Tarafder, C. Waeckerlin, J. Nowakowski, D. Siewert et al.
Phys. Rev. B 90, 220404 (2014)


On-surface synthesis of a two-dimensional porous coordination network: Unraveling adsorbate interactions
M. Matena, J. Bjork, M. Wahl, T-L. Lee, J. Zegenhagen, L. H. Gade, et al.
Phys. Rev. B 90, 125408 (2014)


Exchange Interaction of Strongly Anisotropic Tripodal Erbium Single-Ion Magnets with Metallic Surfaces
J. Dreiser, C. Waeckerlin, Md. E. Ali, C. Piamonteze, F. Donati, et al.
ACS Nano 8, 4662 (2014)


Covalent assembly of a two-dimensional molecular "sponge" on a Cu(111) surface: confined electronic surface states in open and closed pores
A. Shchyrba, S. C. Martens, C. Waeckerlin, M. Matena, T. Ivas, et al.
Chem. Commun. 50, 7628 (2014)


Controlling the Dimensionality of On-Surface Coordination Polymers via Endo- or Exoligation
A. Shchyrba, C. Waeckerlin, J. Nowakowski, S. Nowakowska, et al.
J. Am. Chem. Soc. 136, 9355 (2014)


Investigating magneto-chemical interactions at molecule-substrate interfaces by X-ray photo-emission electron microscopy
J. Girovsky, M. Buzzi, C. Waeckerlin, D. Siewert, J. Nowakowski, et al.
Chem. Commun. 50, 5190 (2014)


Two-Dimensional Supramolecular Electron Spin Arrays
C. Waeckerlin, J. Nowakowski, S-X. Liu, J. Michael, D. Siewert, et al.
Adv. Mater. 25, 2404(2013)


Porphyrin metalation providing an example of a redox reaction facilitated by a surface reconstruction
J. Nowakowski, C. Wäckerlin, J. Girovsky, D. Siewert, T. A. Jung, N. Ballav
Chem. Commun. 49, 2347 (2013)


Emergence of On-Surface Magnetochemistry
N. Ballav, C. Wäckerlin, D. Siewert, P. M. Oppeneer, T. A. Jung
J. Phys. Chem. Lett. 4, 2303 (2013)




---