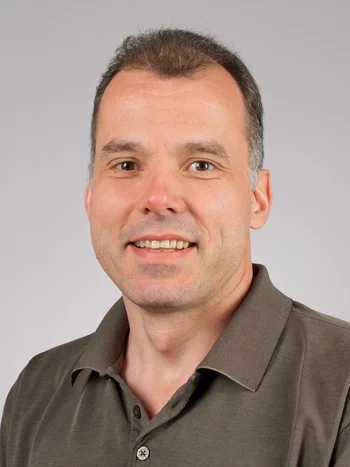 Head of the Laboratory a.i.
Head of the research group
Heavy Elements
Paul Scherrer Institute
Forschungsstrasse 111
5232 Villigen PSI
Switzerland
---
---
Research Activities
The chemistry of transactinide elements is in the focus of our research. We investigate artificially produced super heavy elements (SHE) for the sake of understanding effects induced by the high nuclear charges in the electronic structure of these elements. These effects rooting back to Einstein's relativity principle lead to changes in chemical properties that are unexpected from our expectations based on the chemical trends established along the groups of the periodic table. My research interests comprise the production of transactinides, the formulation of expectations and predictions for their physicochemical properties and the development of fast methods for their chemical investigation. The preparation of efficient experimental setups requires extensive chemical model studies with single atomic amounts of the lighter homologues of transactinides i.e. of elements all over the periodic table. Thus, diversity and interdisciplinarity of this challenging and exciting task at the frontiers of chemistry becomes obvious. The quality of our experimental data on the chemical behavior of transactinides signifies their importance as benchmarks for theoretical relativistic chemistry and as inputs for chemistry textbooks.
Background
Since 2001 Group leader 'Heavy elements' group at the Paul Scherrer Institute and Lecturer at the Department for Chemistry and Biochemistry of the University Bern
2004-2005 Research fellow of the Swiss National Science Foundation at LBNL Berkeley, USA
2000-2001 Research Assistant with the Nuclear Chemistry group at GSI Darmstadt, Germany;
1996-2000 PHD Thesis at the University of Bern (Switzerland) specialized in Nuclear chemistry and Radiochemistry;
1990-1996 BS and MS Studies of Chemistry at the Technical Universities Dresden and Darmstadt (Germany) specialized in Analytical and Physical Chemistry
Awards
2001 Doctoral thesis Award of the Faculty of Philosophy and Natural Sciences of the University of Bern
2001 PhD thesis award from the Nuclear Chemistry Division of the German Chemical Society
2004 Swiss National Science Foundation (SNF) Fellowship for advanced researchers.
2006 GSI Exotic Nuclei Community (GENCO) Membership Award for young scientists.
Selected Publications
R. Eichler et al. Indication for a volatile element 114. Radiochimica Acta 98, 133-139, 2010.
R. Eichler et al. Thermochemical and physical properties of element 112. Angewandte Chemie-International Edition 47, 3262-3266, 2008.
R. Eichler et al. Chemical characterization of element 112. Nature 447, 72-75, 2007.
R. Eichler et al. Chemical characterization of bohrium (element