Laboratory of Nanoscale Biology:
Mechano-Genomics group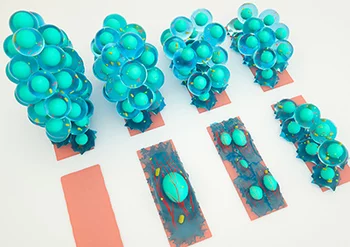 Our research group is focused on understanding the role of mechano-chemical signals on 3D chromatin organization and function that regulate cell-state transitions. We study this during cellular ageing and rejuvenation. Furthermore, we explore if alterations in chromatin organization could provide robust biomarkers for ageing related disease diagnostics, including fibrosis, cancer and neurodegeneration. In these studies, we use bio-imaging combined with bio-interfaces, functional genomics and machine learning methods. On the computational side, we collaborate closely with Caroline Uhler's group at MIT. Furthermore, we develop technologies to create artificial microenvironments for cell-based experiments as well as novel methods for microscopy and micromanipulation of cells.
>>> Mechano-Genomics Group website 
Group Leader and Head of LNB: G.V. Shivashankar
Associated scientists