Dr. Monica Ciomaga Hatnean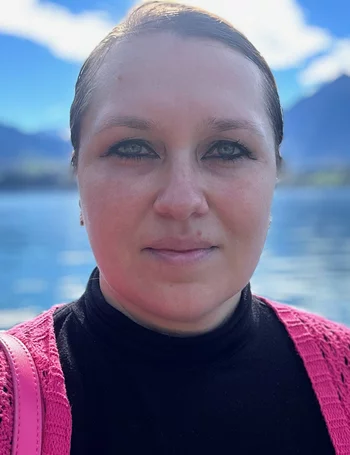 Tenure Track Scientist, Head of Materials Discovery Lab (ETH)
Paul Scherrer Institute
Forschungsstrasse 111
5232 Villigen PSI
Switzerland
---
I am running and maintaining the Materials Discovery Lab, a solid state synthesis and crystal growth facility hosted in the Department of Materials (D-MATL), at the Swiss Federal Institute of Technology Zürich (ETH). The idea for this facility stems from a joint initiative between PSI and ETHZ aiming to strengthen the collaborations between the two institutions.
I am Scientist (Chemist) working on synthesis, crystal growth and characterisation of various materials with interesting properties (see below the Research Interests section). My research is placed at the interface between Materials Science, Solid State Chemistry and Condensed Matter Physics.
---
Research Interests
Synthesis, crystal growth and characterisation of polycrystalline and single crystalline samples of various compounds (e.g. oxides, borides, chalcogenides, oxichalcogenide, intermetallics).
Study of materials that exhibit interesting structural and physical properties. These materials belong to the following areas of research:

Exotic states of matter (e.g. skyrmionic materials, topological insulators, superconductors, etc).
Frustrated magnetism (e.g. pyrochlores, garnets, Shastry-Sutherland lattices, etc).
Multiferroic, ferroelectric and magnetoelectric materials (e.g. ferrites, manganites, etc).
2D and other van der Waals materials (e.g. semiconductors, superconductors, etc).
Polymorphism, structural phase transitions, structural disorder and their effect on the physical properties of the material.
---
---
| | |
| --- | --- |
| 2021 - Present  | Tenure Track Scientist Laboratory for Multiscale materials eXperiments, Paul Scherrer Institut, Switzerland & Materials Discovery Laboratory, Department of Materials, ETH Zurich, Switzerland |
| 2018 -  2021 | Research Focused Assistant Professor (Permanent position, previously called Senior Research Fellow) Superconductivity and Magnetism Group, Department of Physics, University of Warwick, United Kingdom |
| 2013 - 2018 | Research Fellow Superconductivity and Magnetism Group, Department of Physics, University of Warwick, United Kingdom |
| 2009 - 2012 | Doctorate in Chemistry (Synthesis and study of Ga2 −xFexO3 compounds Laboratoire de Physico-Chimie de l'Etat Solide, Institut de Chimie Moléculaire et des Matériaux d'Orsay, Université Paris-Sud, Orsay, France & Laboratoire Léon Brillouin, CEA-Saclay, Gif-sur-Yvette, France |
| 2007 - 2009 | Master in Inorganic Chemistry (Synthesis, Structure and Reactivity of Inorganic and Radiochemical Compounds) Universitatea "Alexandru Ioan Cuza" Iasi, Romania |
| 2008 - 2009  | Research Master (Erasmus scholarship, Inorganic chemistry: from nano-systems to biological systems) Université Paris-Sud, Orsay, France |
| 2003 - 2007 | Bachelor in Chemistry (Technological Biochemistry) Universitatea "Alexandru Ioan Cuza", Iasi, Romania |