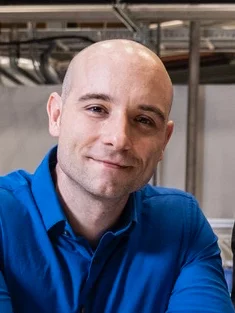 Beamline scientist and principal investigator
Paul Scherrer Institute
Forschungsstrasse 111
5232 Villigen PSI
Switzerland
News
To celebrate contributions of highly influential early and mid-career researchers in energy research, the journal Energy & Fuels established an annual recognition of Energy and Fuels Rising Stars. PSI researcher Patrick Hemberger was selected this year and featured in the current virtual special issue for his contributions in understanding reaction mechanisms in chemistry using advanced synchrotron tools.
Read more: https://www.psi.ch/en/sls/vuv/scientific-highlights/psi-researcher-patrick-hemberger-honored-in-the-rising-stars-special
I am happy to announce that I will be receiving the Ruzicka Prize in Chemistry from the Department of Chemistry and Applied Biosciences at ETH. You are all cordially invited to join the ceremony and my lecture about "How can we capture reactive and elusive intermediates in catalysis to unveil reaction mechanisms?"
Video of award ceremony https://video.ethz.ch/events/2020/ruzicka.html
---
---
---
Biography
Patrick Hemberger is currently principal investigator and beamline scientist at the VUV (x04db) beamline at the Swiss Light Source. He graduated in chemistry from University of Würzburg (Germany) in 09/2008 and received his PhD in physical chemistry in 06/2011. Patrick was awarded a Mercator Fellowship from the German Science Foundation (DFG) and has co-authored more than 100 publications in peer-reviewed journals. He is lecturer and local organizer of the Hercules School (2020-2022) in the field of Synchrotron Radiation and supervises PhD students and postdocs. Besides peer-reviewing activities for different journals and funding agencies he is a member of the Proposal Review Panel at Elettra Synchrotron, Trieste (Italy).
Institutional Responsibilities
At PSI he is responsible for further developing and application of the technologies at the vacuum ultraviolet beamline for chemical reaction dynamics research. This includes development of sources for the generation of elusive and reactive intermediates (free radicals). With the ultimate goal to elucidate reaction mechanism in reactive flows, Patrick  refines the instrumentation at the VUV beamline (spectrometers & sampling environment) to enable combination with novel reactors. He is heading the user chemistry laboratory at the Swiss Light Source, successfully applies for funding and is supervising PhD students and users.
Scientific Research
Patrick's research interests are elucidating reaction mechanisms in reactive environments in all states, phases and time-scales. To unveil these insights, Patrick applies and develops methods to probe elusive and reactive molecules isomer-selectively utilizing vacuum ultraviolet synchrotron radiation, ultrafast lasers, photoelectron spectroscopy and mass spectrometric techniques. Currently he is principal investigator in two projects with the goal to elucidate reaction mechanisms at interfaces including heterogenic catalytic processes as well as in processes involving the liquid phase. Besides projects with VUV synchrotron radiation, Patrick also applies time-resolved photoelectron spectroscopy and mass spectrometry to study the femtochemistry of free radicals.
Publications
To develop sustainable lignin valorization strategies, a solid understanding of the underlying reaction mechanism is critical. By detection of highly reactive and elusive intermediates, new light could be shed on one of the most basic elementary reactions in lignin catalytic fast pyrolysis.
Zeyou Pan, Allen Puente-Urbina, Andras Bodi, Jeroen A. Bokhoven and Patrick Hemberger Chem. Sci., 2021,12, 3161–3169 DOI: 10.1039/d1sc00654a
Photoionization of triplet phenylnitrene was studied by photoion mass-selected threshold photoelectron spectroscopy (TPES) in the gas phase using vacuum UV synchrotron radiation. The doublet and quartet spin states of the radical cation are probed with TPES, and the three isomeric cyanocyclopentadienes are detected, solving the puzzle of the thermal rearrangement of phenylnitrene.
E. Mendez-Vega, W. Sander*, P. Hemberger* J. Phys. Chem. A  2020, 124, 19, 3836-3843.
Operando spectroscopy techniques can distinguish surface and gas‐phase processes in alkane oxyhalogenation. In their Communication on page 5877, J. Pérez‐Ramírez et al. unravel the mechanistic origin of the halogen effect steering catalysis. Selective alkane conversion into olefins is driven by surface‐confined chlorine. A colony of bats depicts the unselective gas‐phase radical‐chain mechanism with bromine. An angel views the selectivity control on earth.
G. Zichittella, M. Scharfe, B. Puértolas, V. Paunović, P. Hemberger, A. Bodi, L. Szentmiklósi,  N. López, J. Pérez‐Ramírez, Angew.Chem. Int.Ed. 2019, 58,5877 –5881.
How can we detect reactive and elusive intermediates in catalysis to unveil reaction mechanisms? In this mini review, we discuss novel photoionization tools to support this quest.
P. Hemberger*, J. A. van Bokhoven, J. Pérez-Ramírez, A. Bodi Catal. Sci. Technol., 2020,10, 1975-1990.
The resonantly stabilized xylyl radicals (C8H9•) distinctively influence the combustion chemistry and, therefore, ultimately determine the performance of combustion engines. At that, the three different isomers (methyl group in ortho, para or meta position) exhibit notable differences at elevated temperatures. We have tracked down these dynamics on a femtosecond timescale by monitoring the response to preparation of a well-defined electronic and vibrational state.
M. Steglich, G. Knopp, P. Hemberger*, Phys. Chem. Chem. Phys., 2019,21, 581-588 
Deoxygenation of the lignin model compound resorcinol was investigated using VUV synchrotron radiation: Formation of two reactive ketenes and decarboxylation are the dominating pathways, much different from the other two benzenediol isomers.
M. Gerlach, A. Bodi, P. Hemberger*, Phys. Chem. Chem. Phys., 2019,21, 19480-19487.
Awards and Grants
2020/11: Ružička Prize in Chemistry: "Understanding the mechanism of catalytic fast pyrolysis by unveiling reactive intermediates in heterogeneous catalysis"
2018/10: Cross Proposal: "Detecting reactive intermediates to understand 

the hydrothermal depolymerization mechanism of lignin

", 540 kCHF
2018/04: SNSF Grant: "Disentangling the Reaction Mechanism in Catalytic Fast Pyrolysis of Lignin by Detecting Reactive Intermediates", 282 kCHF
2017: Poster Prize (Runner up) SCS Fall Meeting 2017 (Category: Catalysis Science & Engineering): "Understanding Reaction Mechanisms in Heterogeneously Catalyzed Reactions: The Case of Catalytic Fast Pyrolysis" link
2015: Grant: Swiss Federal Office of Energy (SFOE) Grant: "Disentangling soot formation processes applying VUV synchrotron radiation and ultrafast laser spectroscopy" 320 kCHF
2015: Mercator Fellow of the German Science Foundation "PEPICO in der Flammenforschung"
2012: SYN Budget Proposal for 2013, 100 kCHF
2008: Poster Prize Chem-SyStM 2008
Memberships
Swiss Chemical Society SCS
German Bunsen Society for Physical Chemistry
German Chemical Society GDCh