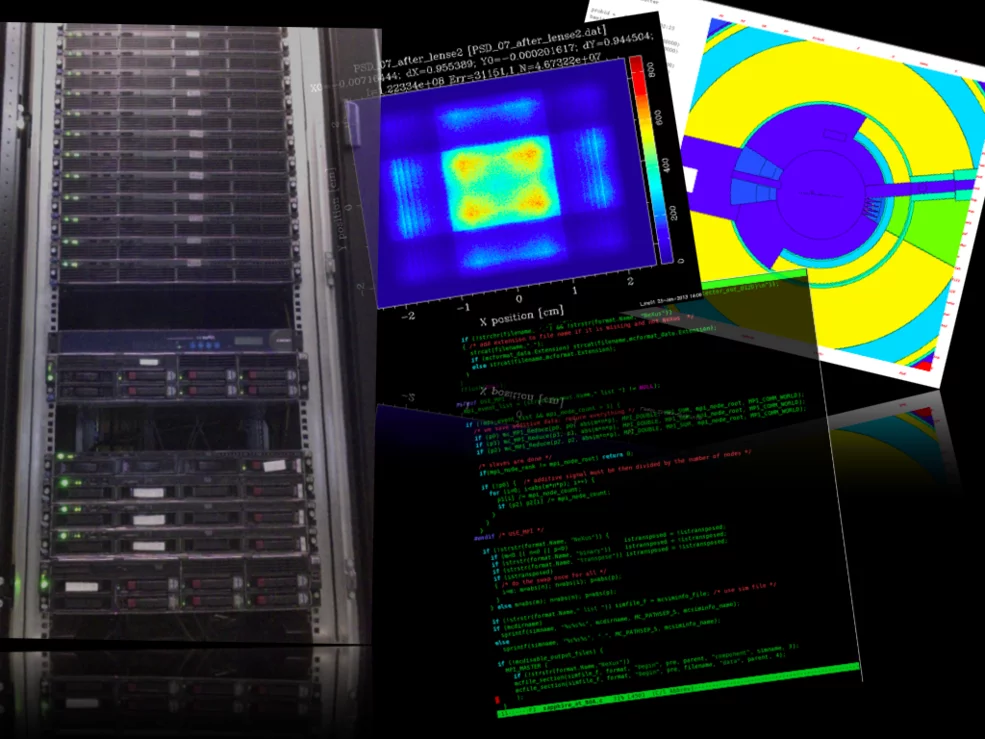 The MCC Computer Cluster of LIN
The LIN's Monte Carlo Cluster (MCC) serves as the main cluster for simulations within the LIN, LNS and GFA groups. Although the majority of runs concern Monte Carlo Neutron Transport simulations (performed with McStas or MCNP), the cluster supports any type of simulations that its users may want to perform.

MCC is a Linux cluster that comprises of 38 nodes (36 slave nodes + 2 master nodes). It contains three sub-parts: the LIN/GFA's parts (nodes mcc20 - mcc37, mcc200-mcc212) and LNS's part (nodes mcc01-mcc06). In total, MCC provides 1248 logical computing cores (624 physical cores) and 25TB of hard disk space. The table below provides an overview of the specs for each one of the available nodes.
| Name | #CPUs | Type | cache memory | RAM | function |
| --- | --- | --- | --- | --- | --- |
| mcc | 2x6x2 | Intel(R) Xeon(R) CPU E5-2630 0 @ 2.30GHz | 15MB | 64GB | master |
| mcc200 | 2x12x2 | Intel(R) Xeon(R) CPU E5-2670 v3 @ 2.30GHz | 30MB | 128GB | master |
| mcc01 | 2x6x2 | Intel(R) Xeon(R) CPU E5-2630 0 @2.30GHz | 15MB | 64GB | slave |
| mcc02 | 2x6x2 | Intel(R) Xeon(R) CPU E5-2630 0 @2.30GHz | 15MB | 64GB | slave |
| mcc03 | 2x6x2 | Intel(R) Xeon(R) CPU E5-2630 0 @2.30GHz | 15MB | 64GB | slave |
| mcc04 | 2x6x2 | Intel(R) Xeon(R) CPU E5-2630 0 @2.30GHz | 15MB | 128GB | slave |
| mcc05 | 2x18x2 | Intel(R) Xeon(R) Gold 6140 CPU @ 2.30GHz | 25MB | 196GB | slave |
| mcc06 | 2x18x2 | Intel(R) Xeon(R) Gold 6140 CPU @ 2.30GHz | 25MB | 196GB | slave |
| mcc20 | 2x6x2 | Intel(R) Xeon(R) CPU X5675 @3.07GHz | 12MB | 24GB | slave |
| mcc21 | 2x6x2 | Intel(R) Xeon(R) CPU X5675 @3.07GHz | 12MB | 24GB | slave |
| mcc22 | 2x6x2 | Intel(R) Xeon(R) CPU X5675 @3.07GHz | 12MB | 24GB | slave |
| mcc23 | 2x6x2 | Intel(R) Xeon(R) CPU X5675 @3.07GHz | 12MB | 24GB | slave |
| mcc24 | 2x6x2 | Intel(R) Xeon(R) CPU X5675 @3.07GHz | 12MB | 24GB | slave |
| mcc25 | 2x6x2 | Intel(R) Xeon(R) CPU X5675 @3.07GHz | 12MB | 24GB | slave |
| mcc26 | 2x6x2 | Intel(R) Xeon(R) CPU X5675 @3.07GHz | 12MB | 24GB | slave |
| mcc27 | 2x6x2 | Intel(R) Xeon(R) CPU X5675 @3.07GHz | 12MB | 24GB | slave |
| mcc28 | 2x6x2 | Intel(R) Xeon(R) CPU X5675 @3.07GHz | 12MB | 24GB | slave |
| mcc29 | 2x6x2 | Intel(R) Xeon(R) CPU X5675 @3.07GHz | 12MB | 24GB | slave |
| mcc30 | 2x6x2 | Intel(R) Xeon(R) CPU X5675 @3.07GHz | 12MB | 24GB | slave |
| mcc31 | 2x6x2 | Intel(R) Xeon(R) CPU X5675 @3.07GHz | 12MB | 24GB | slave |
| mcc32 | 2x6x2 | Intel(R) Xeon(R) CPU X5675 @3.07GHz | 12MB | 24GB | slave |
| mcc33 | 2x6x2 | Intel(R) Xeon(R) CPU E5-2640 0 @2.50GHz | 15MB | 32GB | slave |
| mcc34 | 2x6x2 | Intel(R) Xeon(R) CPU E5-2640 0 @2.50GHz | 15MB | 32GB | slave |
| mcc35 | 2x6x2 | Intel(R) Xeon(R) CPU E5-2640 0 @2.50GHz | 15MB | 32GB | slave |
| mcc36 | 2x6x2 | Intel(R) Xeon(R) CPU E5-2640 0 @2.50GHz | 15MB | 32GB | slave |
| mcc37 | 2x6x2 | Intel(R) Xeon(R) CPU E5-2640 0 @2.50GHz | 15MB | 24GB | slave |
| mcc201 | 2x12x2 | Intel(R) Xeon(R) CPU E5-2670 v3 @ 2.30GHz | 30MB | 128GB | slave |
| mcc202 | 2x12x2 | Intel(R) Xeon(R) CPU E5-2670 v3 @ 2.30GHz | 30MB | 128GB | slave |
| mcc203 | 2x12x2 | Intel(R) Xeon(R) CPU E5-2670 v3 @ 2.30GHz | 30MB | 128GB | slave |
| mcc204 | 2x12x2 | Intel(R) Xeon(R) CPU E5-2670 v3 @ 2.30GHz | 30MB | 128GB | slave |
| mcc205 | 2x12x2 | Intel(R) Xeon(R) CPU E5-2670 v3 @ 2.30GHz | 30MB | 128GB | slave |
| mcc206 | 2x12x2 | Intel(R) Xeon(R) CPU E5-2670 v3 @ 2.30GHz | 30MB | 128GB | slave |
| mcc207 | 2x12x2 | Intel(R) Xeon(R) CPU E5-2670 v3 @ 2.30GHz | 30MB | 128GB | slave |
| mcc208 | 2x12x2 | Intel(R) Xeon(R) CPU E5-2670 v3 @ 2.30GHz | 30MB | 128GB | slave |
| mcc209 | 2x12x2 | Intel(R) Xeon(R) CPU E5-2670 v3 @ 2.30GHz | 30MB | 128GB | slave |
| mcc210 | 2x12x2 | Intel(R) Xeon(R) CPU E5-2670 v3 @ 2.30GHz | 30MB | 128GB | slave |
| mcc211 | 2x12x2 | Intel(R) Xeon(R) CPU E5-2670 v3 @ 2.30GHz | 30MB | 128GB | slave |
| mcc212 | 2x12x2 | Intel(R) Xeon(R) CPU E5-2670 v3 @ 2.30GHz | 30MB | 128GB | slave |