Applied Catalysis and Spectroscopy group
The Applied Catalysis and Spectroscopy group (ACS) is part of the Bioenergy and Catalysis Laboratory (LBK) in the Energy and Environment Research Division (ENE).

Our research focuses on environmental catalysis, catalysis for energy conversion processes and operando spectroscopy.
---
News
---
1 Nov 2019
Today, we change the group name to Applied Catalysis and Spectroscopy!
---
31 Oct 2019
Adrian has been awarded the PSI-Impuls-Preis for his PhD thesis entitled ' Advances in Vanadium-based catalyst research for the selective catalytic reduction of NOx by NH3'

. Congratulations!
---
30 Oct 2019
Matteo receives a poster prize at the PSI Condensed Matter Retreat in Brugg for his ATR-IR study. Congrats!
---
20 Jun 2019
The paper of Rob has made it in ACS Catalysis. This is also our first publication on Raman spectroscopy.
---
---
9 Jan 2019
The paper of Patrick 'Stable Ni particles through structural reversibility in La-Fe-Ni perovskite type metal oxide catalysts' received the attention of Advances in Engineering.

   
---
---
27 Apr 2018
The work of Andrey on Pd exchanged zeolites for methane lean oxidation has been finally accepted for publication in Nature Communications.
---
8 Mar 2018
Our first paper ever in Nature journals appeared in Nature Catalysis. You can find it here. Our good colleagues Feng and Janos wrote a News & Views article about it.
---
End 2017
Our paper 'Methane oxidation over a honeycomb Pd-only three-way catalyst under static and periodic operation' appearing in Applied Catalysis B has been reviewed on Dieselnet.
---
11 Oct 2017
Our paper 'Genesis of a Co–salicylaldimine complex on silica followed in situ by FTIR and XAS' has been awarded a cover picture in ChemPhysChem. doi:10.1002/cphc.201701076.
---
23 Aug 2017
Andrey has received the second best oral presentation award in the session Catalysis Science & Engineering at the Fall Meeting 2017 of the Swiss Chemical Society held in Bern, 21-22 August 2017. Congratulations!
---
24 Aug 2016
Our Angewandte Chemie paper on the active sites for NH3-SCR on a V-W-TiO2 catalyst is out! You will find it here.
---
10 Aug 2015
We congratulate Manasa for her second best poster award at the Catalysis Fundamentals and Practice Summer School held in Liverpool (UK), 20-24 July 2015.
---
1 Jun 2015
The 2014 Annual Activity Report of the Competence Centre for Materials Science and Technology (CCMX) reports on our recent developments in the design of tools to determine structure-activity relationships of functional materials. http://www.ccmx.ch/ccmx/annual-reports/
---
11 Sep 2014
Katarzyna Michalow-Mauke has received a poster award at the Fall Meeting 2014 of the Swiss Chemical Society (session Catalysis Science and Engineering) held at University of Zurich. Title: 'WO3/CexTi1-xO2 nano-catalyst prepared by one-step flame spray synthesis for NOx reduction in the NH3-SCR'. Congratulations!
---
25 Aug 2014
Our article in Catalysis Science & Technology is illustrated by the cover of the September 2014 issue: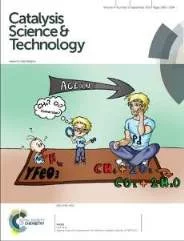 Y. Lu, S. Keav, V. Marchionni, G.L. Chiarello, A. Pappacena, M. Di Michiel, M.A. Newton, A. Weidenkaff, D. Ferri, Ageing induced improvement of methane oxidation activity of Pd/YFeO3, Catal. Sci. Technol. 2014, 4, 2687. doi: 10.1039/C4CY00289J
---
12 Mar 2013
Our article in Catalysis Science & Technology is illustrated by the cover of the April 2013 issue: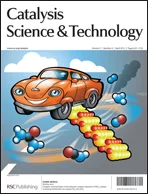 A.M. Bernhard, D. Peitz, M. Elsener, T. Schildhauer, O. Kröcher, Catalytic urea hydrolysis in the selective catalytic reduction of NOx: Catalyst screening and kinetics on anatase TiO2 and ZrO2, Catal. Sci. Technol. 2013, 3(4), 942-951. doi:10.1039/C2CY20668D
---
---