Ultrafast electron localization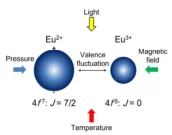 When exciting a material with a fs intense laser pulse, it is well known that electrons are ejected from atoms during the exposure time, which is e.g. important for photodissociation processes. For X-rays this process is known as "diffract before destroy" and is extensively employed to solve protein crystal structures at XFELs. However, how and how fast electrons can be localized in a correlated metal, i.e. adding electrons in a localized atomic shell, taking them out of an electron gas, is completely unclear.
Here, we address this fundamental question using a correlated electron material and state-of-art pump-probe techniques. We could quantify the number of electrons that get localized on ultrafast timescale out of an "electron gas" into 4f states. The electron localization also strongly impacts the crystal structure, which changes were also determined. We find that it correlates with an increase of 4f states/conduction electrons hybridization and exclude that this is driven by a "coherent" volume change of the lattice.
These findings open a series of fundamental questions in the field of correlated electron systems such as: What leads to the change of hybridization on such a time scale? What is the bottle neck for such a process and what is the role of the magnetic moments that are created when additional electrons are localized in the 4f states? Addressing these questions will strongly impact our understanding of correlated metals.