Dr. Dario Ferreira Sanchez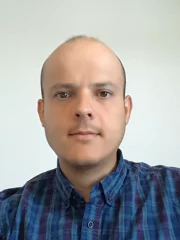 Senior Scientist at the Chemical Imaging Group and the microXAS Beamline Project
Paul Scherrer Institut
Forschungsstrasse 111
5232 Villigen PSI
Switzerland
Biography
I am working at PSI since 2015 where I've been working on synchrotron Hyperspectral Chemical Imaging in Space and Time investigations on a great variety of complex hierarchical, and heterogeneous materials.
Before that, I have started as a postdoctoral fellow in 2013 at CEA/LETI department, in France, with Pierre Bleuet and Patrice Gergaud. The main project consisted on the development of the micro-Laue diffraction tomography analysis technique, and the application of it in the study of Through Silicon vias (TSVs) and Solid Oxide Fuel Cells (SOFCs). Experimental development at the BM32 beamline, ESRF.
My PhD work (2009-2012) at the Physics Institute of UFRGS (Brazil) was focused on the microstructural, morphological and compositional characterization of nanostructured systems through the combination of several complementary techniques, which includes Medium Energy Ion Scattering (MEIS), Transmission Electron Microscopy (TEM), Grazing Incidence Small Angle X-Rays Scattering (GISAXS) and Rutherford Backscattering Spectrometry (RBS). 
I have obtained my master degree (2007-2009) at the Department of Physics of UFPR (Brazil), which was focused on the investigation of the structural and optical properties of chalcogenide glasses. Combined analysis of X-ray diffraction (XRD), EXAFS, Reverse Monte Carlo (RMC) method, and Raman spectroscopy was applied.
Institutional Responsabilities
At the microXAS beamline, Dario Ferreira Sanchez's been responsible for the multimodal tomographic approach. That involves data analysis development, user support and collaboration, and in-line data reduction during and after the experiments as well.  The focus is on development to provide unique capabilities for Imaging Chemistry in Space and Time in an unlimited range of reactive systems at relevant spatial and temporal length scales. Hyperspectral Chemical Imaging allows a broad range of scientific communities to gain unrivaled insights into the chemical complexity of hierarchical, heterogeneous materials, including corresponding chemical reaction pathways and kinetics (reactivity).
Scientific Research
My main scientific interest and motivation is related to some problems in modern chemistry, mainly on complex heterogeneous materials linked to energy (production and storage) and catalysis; problems which, for obtaining a deeper comprehension, require having to resolve chemistry in various time and spatial scales. With this motivation in mind, over the past years I've been happily dedicating my attention and great efforts in developing synchrotron chemical imaging tools, including some novel approaches, for imaging chemistry in space and time.
Research Highlights
Publications List