Dr. Camelia Nicoleta Borca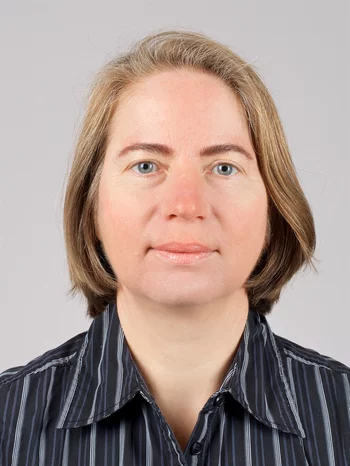 Paul Scherrer Institut
Forschungsstrasse 111
5232 Villigen PSI
Switzerland
---
---
Biography
Camelia N. Borca is a beamline scientist at the PHOENIX beamline. She received the Bachelor degree in Physics in 1994 from the University of Bucharest, Romania, and the Ph.D. degree in 2001 from the University of Nebraska – Lincoln, U.S.A. Dr. Camelia N. Borca's doctoral studies encompass the study of fundamental processes which govern the behavior of magnetic thin film surfaces including half-metal compounds such as NiMnSb, CrO2 and Mn-doped perovskites, as well as micron-scale patterned films like Ni, Co, Fe, and Co/Pd multilayers. She acquired  extended experience with surface sensitive techniques using soft X-rays for investigations of electronic properties and element specific magnetic moments. After a two years postdoc position at JILA (University of Colorado in Boulder, U.S.A.), she joined the Institute of Imaging and Applied Optics at Ecole Polytechnique Federale de Lausanne in 2004, where she focused on developing novel oxide channel waveguide structures. Since 2006 she is working as a beamline scientist at the Swiss Light Source. Honors include the American Vacuum Society Graduate Research Award, U.S.A, 2000, the Material Research Society Graduate Student Award, U.S.A, 2001, and the University of Nebraska - College of Arts and Sciences Graduate Research Assistant   Award, U.S.A., 2001.
Institutional Responsibilities
Camelia Borca's responsibilities include beamline commissioning and technical support for users, entailing setup installation, data acquisition and data processing. At the Phoenix beamline the focus is on the development of advanced synchrotron-based techniques for trace elements detection and imaging, X ray emission spectroscopy, chemical state speciation and local structure determination using micro-focused tender X-rays.
Scientific Research
Camelis Borca's current research activities are focused on better understanding the atomistic mechanisms which influence specific properties of novel materials that are currently under investigation for future developments in energy and the environment. During the postdoc periods she used  different fabrication methods for obtaining micron-scale structures in magnetic and high refractive index layers – such as direct laser writing techniques and standard clean-room photolithographic processes. Now she is in charge of developing and refining the production process for microfluidic devices and establishing the competence for microfluidic devices for Photon Science research.
Selected Publications
For an extensive overview we kindly refer you to our publication repository DORA.
Books
Magnetic and electronic structure modifications induced by surface segregation in La0.65Pb0.35MnO3 thin films
C.N. Borca, Hae-Kyung Jeong and Takashi Komesu
book chapter in Magnetic properties of solids, Editor Kenneth B. Tamayo, ISBN 978-1-60741-550-3 (2008) Nova Science Publishers, Inc.
Processing and properties of thin manganite films
S. Canulescu, C.N. Borca, M. Döbeli, P. Schaaf, T. Lippert and A. Wokaun
book chapter in Magnetic properties of solids, Editor Kenneth B. Tamayo, ISBN 978-1-60741-550-3 (2008) Nova Science Publishers, Inc.
Surface Segregation and Compositional Instability at the Surface of the Half Metallic Ferromagnets and Related Compounds
Hae-Kyung Jeong, A.N. Caruso, C.N. Borca
book chapter in Half-metallic Alloys - Fundamentals and Applications, Springer Series: Lecture Notes in Physics, Vol. 676, pages 221-236 (2005), Edited by I. Galanakis and Peter Heinz Dederichs (ISBN: 3-540-27719-6)
The Possible Influence of Magnetic Ordering on Segregation in Ternary Alloys: TiCoSb and NiMnSb
A.N. Caruso and C.N. Borca
book chapter in Recent Research Developments in Magnetism and Magnetic Materials, Vol.1, pages 33-48 (2003), Published by Transworld Research Network 37/661(2), Fort P.O., Trivandrum – 695 023 Kerala, India (ISBN 81-7895-100-2)