PD Dr. Richard Alfred Kammerer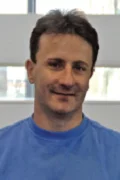 Paul Scherrer Institute
Forschungsstrasse 111
5232 Villigen PSI
Switzerland
Research Interests
Botulinum neurotoxins (BoNTs) are among the most potent toxins known. They can cause botulism, a rare but potentially fatal paralytic disease and belong to the most dangerous bioweapons. Despite their toxicity, in particular BoNT/A1, commonly known as Botox, is used in cosmetic and medical applications. A detailed molecular understanding of BoNT/host protein interactions is fundamental both for developing strategies against botulism and for generating improved BoNT variants for medical applications.
Towards this aim, we are investigating toxin translocation and toxin/host receptor interactions. Furthermore, we are developing tools to study the structure and function of botulinum neurotoxins. To address these challenges, we use X-ray crystallography and cryo-electron microscopy (cryo-EM) in combination with biophysical, biochemical, and cell biological methods.
Key Publications
Leka O, Wu Y, Li X, Kammerer RA.

(2021)

Crystal structure of the catalytic domain of botulinum neurotoxin subtype A3.

J Biol Chem. 2021 Jan-Jun;296:100684. doi: 10.1016/j.jbc.2021.100684.

Benoit RM, Schärer MA, Wieser MM, Li X, Frey D, Kammerer RA (2017)

Crystal structure of the BoNT/A2 receptor-binding domain in complex with the luminal domain of its neuronal receptor SV2C.

 

Sci Rep. 2017 Mar 2; 7:43588. doi: 10.1038/srep43588.

Kammerer RA

, Benoit RM (2014)

Botulinum neurotoxins: new questions arising from structural biology.

Trends Biochem Sci. 2014 Nov;39(11):517-26. doi: 10.1016/j.tibs.2014.08.009.

Benoit RM, Frey D, Hilbert M, Kevenaar JT, Wieser MM, Stirnimann CU, McMillan D, Ceska T, Lebon F, Jau

ssi R, Steinmetz MO, Schertler GF, Hoogenraad CC, Capitani G, Kammerer RA (2014)

Structural basis for recognition of synaptic vesicle protein 2C by botulinum neurotoxin A.

Nature. 2014 Jan 2;505(7481):108-11. doi: 10.1038/nature12732.
Group Members
Publications since 2010
Former Members
---
---
---
---
---
---