cSAXS – X12SA: Coherent Small-Angle X-ray Scattering
Access to cSAXS is granted through the biannual call for proposals.

We have an open postdoctoral position in our group in SAXS/WAXS imaging and a second one to be announced soon on coherent diffractive imaging and tomography.
Experiment types
Experiments performed at cSAXS include, inter alia,
3D coherent diffractive imaging (CDI), in particular by ptychographic means, see for example Dierolf et al., Nature 467, 436 (2010). Dedicated instrumentation, which is available to users, is described in Holler et al., Sci. Rep. 4, 3857 (2014).
optics characterization, see for example Vila-Comamala et al. Opt Express 19, 21333 (2011)
small-angle X-ray scattering (SAXS), e.g., Smeulders et al., Nature 478, 412 (2011), can be performed with spatial resolution as microscopy technique (Deyhle et al. Nanomed-Tanotechnol 7, 694 (2011)) and/or with time resolution in the millisecond range (Westenhoff et al., Nature Methods 7, 775 (2010)).
---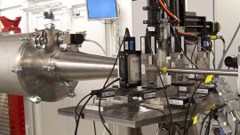 Images of some typical setups can be found under Endstations.

---
Technical Data
| | |
| --- | --- |
| Energy range | 4 – 19 keV |
| Energy resolution | ΔE/E < 0.02% |
| Spot size on sample (horizontal × vertical) | variable from 1.5 × 0.8mm2 to 20 × 5µm2 |
| total flux (at sample position)* | ~1012photons/sec (at E = 11.2keV, 400mA ring current) |
| Coherent flux* | ~5×109photons/sec (at E = 11.2keV, 400mA ring current) |
*estimates based on calculations and measurements at related beamlines, not (yet) measured at cSAXS