Swiss Light Source Techno Trans AG (SLS Techno Trans AG)

The main goal of the
SLS Techno Trans AG
is to facilitate industrial use of the Swiss Light Source, SwissFEL and Clean Rooms. If you are not an expert in a particular technique or you are unsure of which technique is best suited for your application(s), we can help you. Our Mission is to coordinate any and all services for industrial/proprietary users - we want to be your one stop shop!
In operation mode, the Swiss Light Source offers access to users 24h a day, 6 days a week. Currently, the
SLS Techno Trans AG
manages 50 contracts with industrial customers, which means that approximately 10% of the available beamtime at the SLS is dedicated to industrial/proprietary use.
How to Access the Swiss Light Source
We provide scientific consultations under the strictest confidentiality. If this is necessary for your application, our contract office will arrange non-disclosure agreements (NDA) before any discussions take place. Our major services are:
Providing an entry point for industrial SLS customers
Scientific consultations
NDA and contracts
Acquisition of new industrial/proprietary users
A second way to access the facilities available at the SLS is through the peer review process. Scientists are invited to submit proposals requesting a specific amount of time at a beamline. The call for proposals is published by email and available on the
SLS web site
. It occurs biannually with typical applications ranging from materials science to soft- and hard condensed matter to environmental science. Another three calls per year are launched for protein crystallography. The proposals are submitted to and handled by the
Digital Users Office (DUO)
. The proposals are evaluated by an independent international peer review committee on the basis of
scientific criteria
.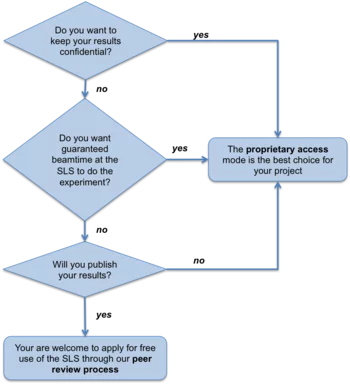 ---