LNS - Scientific Highlights
12. March 2013
Magnetic Cluster Excitations
A. Furrer et al.,
Reviews of Modern Physics 85, 367 (2013)
. Magnetic clusters, i.e., assemblies of a finite number (between two or three and several hundred) of interacting spin centers which are magnetically decoupled from their environment, can be found in many materials ranging from inorganic compounds and magnetic molecules to artificial metal structures formed on surfaces and metalloproteins. Their magnetic excitation spectra are determined by the nature of the spin centers and of the magnetic interactions, and the particular arrangement of the mutual interaction paths between the spin centers. Small clusters of up to four magnetic ions are ideal model systems in which to examine the fundamental magnetic interactions, which are usually dominated by Heisenberg exchange, but often complemented by anisotropic and/or higher-order interactions. In large magnetic clusters, which may potentially deal with a dozen or more spin centers, there is the possibility of novel many-body quantum states and quantum phenomena. In this review the necessary theoretical concepts and experimental techniques to study the magnetic cluster excitations and the resulting characteristic magnetic properties are introduced, followed by examples of small clusters, demonstrating the enormous amount of detailed physical information that can be retrieved. The current understanding of the excitations and their physical interpretation in the molecular nanomagnets which represent large magnetic clusters is then presented, with a section devoted to the subclass of single-molecule magnets, distinguished by displaying quantum tunneling of the magnetization. Finally, there is a summary of some quantum many-body states which evolve in magnetic insulators characterized by built-in or field-induced magnetic clusters. The review concludes by addressing future perspectives in the field of magnetic cluster excitations.
14. January 2013
Spin ladders and quantum simulators for Tomonaga–Luttinger liquids
S. Ward et al.,
J. Phys.: Condens. Matter 25, 014004 (2013)
. Magnetic insulators have proven to be usable as quantum simulators for itinerant interacting quantum systems. In particular the compound (C
5
H
12
N)
2
CuBr
4
(for short: (Hpip)
2
CuBr
4
) was shown to be a remarkable realization of a Tomonaga–Luttinger liquid (TLL) and allowed us to quantitatively test the TLL theory. Substitution weakly disorders this class of compounds and thus allows us to use them to tackle questions pertaining to the effect of disorder in TLL as well, such as that of the formation of the Bose glass. In this paper we present, as a first step in this direction, a study of the properties of the related (Hpip)
2
CuCl
4
compound. We determine the exchange couplings and compute the temperature and magnetic field dependence of the specific heat, using a finite temperature density matrix renormalization group procedure. Comparison with the measured specific heat at zero magnetic field confirms the exchange parameters and Hamiltonian for the (Hpip)
2
CuCl
4
compound, giving the basis needed to begin studying the disorder effects.
4. December 2012
Persistent Spin Dynamics Intrinsic to Amplitude-Modulated Long-Range Magnetic Order
M. Pregelj et al.,
Phys. Rev. Lett. 109, 227202 (2012)
. In geometrically and/or exchange frustrated materials spin fluctuations may endure down to lowest accessible temperatures – the phenomenon known as persistent spin dynamics. Since spin fluctuations hinder the onset of extended static correlations, persistent spin dynamics and long-range magnetic order are generally considered as mutually exclusive. Remarkably, their coexistence has been found in several frustrated magnetic systems but was lacking a suitable explanation.
Our work reports on a combined study of spherical neutron polarimetry and neutron diffraction, which reveal that in the frustrated coupled-spin-chain system FeTe
2
O
5
Br the incommensurate amplitude modulated magnetic structure persists to the lowest accessible temperatures (T/T
N
~ 1/200). This is consistent with muon spin relaxation and specific-heat measurements, which in addition to static long-range order signify the presence of persistent spin dynamics. Our study, therefore, suggests that their coexistence is intrinsic to amplitude modulated magnetic structures and thus offers a well-defined framework and a coherent explanation for the coexistence of long-range order and persistent spin dynamics.
23. October 2012
Electric field control of the skyrmion lattice in Cu2OSeO3
J.S. White et al.,
J. Phys.: Condens. Matter 24, 432201 (2012)
. Skyrmions are topologically protected magnetic spin 'whirls' that form a hexagonal 2D lattice in non-centrosymmetric magnets. Until recently, skyrmions had only been observed in itinerant metallic alloys such as MnSi, where they can also be manipulated by applied electric currents. Recently however, a skyrmion lattice (SkL) phase was also found in the chiral cubic insulator Cu
2
OSeO
3
, thus showing that skyrmion formation is a more general phenomenon to be expected of non-centrosymmetric systems, and that metallicity is not a prerequisite. Since Cu
2
OSeO
3
is furthermore a magneto-electric, an important open question was to discover if the skyrmion lattice could be manipulated by applied electric (E-) fields. In our study, we report small-angle neutron scattering experiments that demonstrate successfully the first manipulation of skyrmions by applied E-fields in an insulator. Using a geometry with
μ0H
|| [1-10] and E || [111], we discover that the effect of applying an E-field is to controllably rotate the SkL around the magnetic field axis in a manner dependent on both the size and sign of the E-field. Our results are an important first demonstration for a microscopic coupling between applied E-fields and the skyrmions in an insulator, and show that the new paradigm for skyrmion manipulation in this material is dependent on the emergent magneto-electric properties of the individual skyrmions.
31. August 2012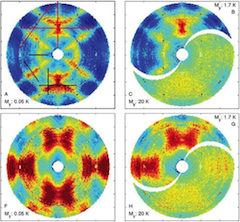 Power-Law Spin Correlations in the Pyrochlore Antiferromagnet Tb2Ti2O7
T. Fennell et al.,
Physical Review Letters 109, 017201 (2012)
. Spin correlations with power-law decay are usually associated with a critical point, but stable phases with power-law correlations may exist in frustrated magnets. Such phases are interesting, because they represent model materials where short-range interactions and local constraints lead to emergent symmetries and fractional quasiparticles. For example, in a spin ice, spin configurations that respect a local ice-rule constraint give rise to dipolar (i.e., 1/r
3
) spin correlations and emergent magnetic monopoles. Dipolar correlations are identified in scattering experiments by the existence of distinctive sharp and anisotropic features known as pinch points. We investigated the low-temperature state of the rare-earth pyrochlore Tb
2
Ti
2
O
7
using polarized neutron scattering experiments performed on TASP (SINQ) and D7 (ILL). Tb
2
Ti
2
O
7
is often described as an antiferromagnetic spin liquid with isotropic spin correlations extending over lengths comparable to individual tetrahedra of the pyrochlore lattice. We confirmed this picture at 20 K but find that at 0.05 K the data contain evidence of pinch-point scattering, suggesting that the low temperature state of Tb
2
Ti
2
O
7
has power-law spin correlations and may be described by an as yet unknown emergent gauge theory.
27. August 2012
Two types of adjacent dimer layers in the low temperature phase of BaCuSi2O6
D. Sheptyakov et al.,
Physical Review B 86, 014433 (2012)
. The interest in BaCuSi
2
O
6
is motivated by its extraordinary phase diagram with field-induced Bose-Einstein condensation. Being a quantum paramagnet at zero magnetic field down to the lowest temperatures, the system displays a quantum phase transition into a magnetically ordered state at the critical value of magnetic field of ~23.5 T. Knowledge of the exact crystal structure of BaCuSi
2
O
6
is of outmost importance for the accurate determination of the relevant exchange couplings, since its previously accepted room-temperature tetragonal crystal structure model failed to explain the high-resolution inelastic neutron scattering data at low temperature. Following the discovery of the low-temperature structural phase transition in this material by several research groups, we have now determined its average low-temperature crystal structure. It has been investigated with high-resolution synchrotron x-ray and neutron powder diffraction techniques and has been found to be orthorhombic, with the most probable space group
Ibam
. The Cu–Cu dimers in this material are forming two types of layers with distinctly different interatomic distances. Subtle changes also modify the partially frustrated interlayer Cu–Cu exchange paths. The present results corroborate the interpretation of low-temperature nuclear magnetic resonance and inelastic neutron scattering data in terms of distinct dimer layers.
15. June 2012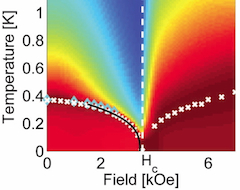 Dipolar Antiferromagnetism and Quantum Criticality in LiErF4
C. Kraemer et al.,
Science 336, 1416-1419 (2012)
. Magnetism has been predicted to occur in systems in which dipolar interactions dominate exchange. We present neutron scattering, specific heat, and magnetic susceptibility data for LiErF
4
, establishing it as a model dipolar-coupled antiferromagnet with planar spin-anisotropy and a quantum phase transition in applied field H
c||
= 4.0 ± 0.1 kilo-oersteds. We discovered non–mean-field critical scaling for the classical phase transition at the antiferromagnetic transition temperature that is consistent with the two-dimensional XY/h
4
universality class; in accord with this, the quantum phase transition at H
c
exhibits three-dimensional classical behavior. The effective dimensional reduction may be a consequence of the intrinsic frustrated nature of the dipolar interaction, which strengthens the role of fluctuations.
2. May 2012
Direct observation of the quantum critical point in heavy fermion CeRhSi3
N. Egetenmeyer et al.,
Physical Review Letters 108, 177204 (2012)
. In many heavy fermion materials the quantum critical point is masked by superconductivity and it can only be detected by use of a local probe. In the noncentrosymmetric heavy fermion CeRhSi
3
the ground state at ambient pressure is antiferromagnetically ordered and superconductivity sets in above 12 kbar coexisting with antiferromagnetism. We have unraveled a magnetic quantum critical point hidden deep inside the superconducting state of CeRhSi
3
. Using the muon spin rotation technique we observed the suppression of the internal fields at the lowest measured temperature, upon increase of external pressure. Our data suggest that the ordered moments are gradually quenched with increasing pressure. At 23.6 kbar, the ordered magnetic moments are fully suppressed via a second-order phase transition, and T
N
is zero.
2. April 2012
Ellipsoidal hybrid magnetic microgel particles with thermally tunable aspect ratios
V. Städele et al.,
Soft Matter 8, 4427-4431 (2012)
. We report on the synthesis and characterization of multiresponsive hybrid microgel particles. The particles consist of ellipsoidal silica-coated maghemite cores subsequently coated with thermoresponsive poly (N-isopropylacrylamide) (PNIPAM) shells. The PNIPAM shell enables the hybrid particle to alter its size and ratio of long to small axis with increasing temperature while the core morphology remains unchanged. The maghemite core can be magnetically oriented along the long axis as evidenced by small-angle X-ray scattering (SAXS) and confocal microscopy. Dynamic light scattering techniques and confocal microscopy have been applied to study the particles' morphological evolution with increasing temperature in terms of their aspect ratio. The aspect ratio of the particles was found to vary from 1.25 to 1.45 within a temperature range from 20 °C to 44 °C.
20. February 2012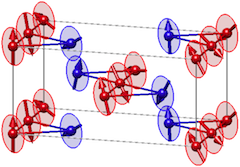 Directly coupled Ferromagnetism and Ferroelectricity in the Olivine Mn2GeO4
J.S. White et al.,
Physical Review Letters 108, 077204 (2012)
. The olivine compound Mn
2
GeO
4
is shown to feature both a ferroelectric polarization and a ferromagnetic magnetization that are directly coupled and point along the same direction. We show that a spin spiral generates ferroelectricity, and a canted commensurate order leads to weak ferromagnetism. Symmetry suggests that the direct coupling between the ferromagnetism and ferroelectricity is mediated by Dzyaloshinskii-Moriya interactions that exist only in the ferroelectric phase, controlling both the sense of the spiral rotation and the canting of the commensurate structure. Our study demonstrates how multicomponent magnetic structures found in magnetically frustrated materials like Mn
2
GeO
4
provide a new route towards functional materials that exhibit coupled ferromagnetism and ferroelectricity.
8. September 2011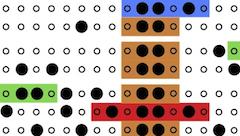 Direct Observation of Local Mn-Mn Distances in the Paramagnetic Compound CsMnxMg1-xBr3
A. Furrer et al.,
Physical Review Letters 107, 115502 (2011)
. We introduce a novel method for local structure determination with a spatial resolution of the order of 0.01 Å. It can be applied to materials containing clusters of exchange-coupled magnetic atoms. We use neutron spectroscopy to probe the energies of the cluster excitations which are determined by the interatomic coupling strength
J
. Since for most materials
J
is related to the interatomic distance
R
through a linear relation
dJ/dR
= α (for
dR/R
<< 1), we can directly derive the local distance
R
from the observed excitation energies. This is exemplified for the mixed one-dimensional paramagnetic compound CsMn
x
Mg
1-x
Br
3
(x = 0.05, 0.10) containing manganese dimers oriented along the hexagonal
c
axis. Surprisingly, the resulting Mn-Mn distances
R
do not vary continuously with increasing internal pressure but lock in at some discrete values.