Scientific Highlights and News
Swiss Light Source (SLS) 2017
16 March 2017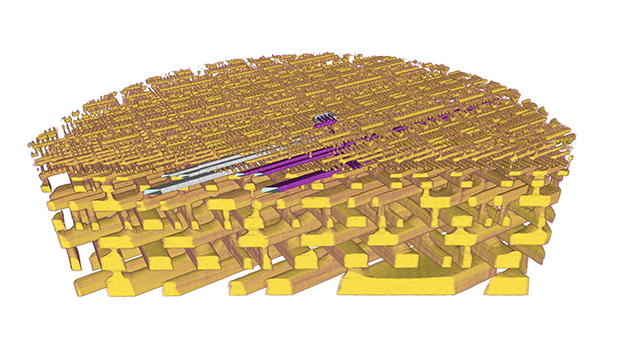 Media Releases
Materials Research
Micro- and Nanotechnology
Matter and Material
Research Using Synchrotron Light
Researchers at the PSI have made detailed 3-D X-ray images of a commercially available computer chip. In their experiment, they examined a small piece that they had cut out of the chip beforehand. This sample remained undamaged throughout the measurement. It is a major challenge for manufacturers to determine if, in the end, the structure of their chips conforms to the specifications. Thus these results represent one important application of an X-ray tomography method that the PSI researchers have been developing for several years.
9 March 2017
A novel type of diffractive lenses based on interlaced structures enable x-ray imaging at resolutions below 10 nm. The fabrication method and the test results of these novel x-ray lenses have been published in the journal
Scientific Reports
.
5 January 2017
Media Releases
Energy and Environment
Research Using Synchrotron Light
Micro- and Nanotechnology
Eighty percent of all products of the chemical industry are manufactured with catalytic processes. Catalysis is also indispensable in energy conversion and treatment of exhaust gases. Industry is always testing new substances and arrangements that could lead to new and better catalytic processes. Researchers of the Paul Scherrer Institute PSI in Villigen and ETH Zurich have now developed a method for improving the precision of such experiments, which may speed up the search for optimal solutions.