No. II/09 - 30 June 2010
PSI photon, neutron and muon user facilities newsletter
Editorial
I cordially invite you to attend the first Joint Users' Meeting at PSI (
JUM@P'09
), which will be held on October 12 and 13, 2009. For the first time we will bring together the users of our three facilities: the Swiss Light Source SLS, the Swiss Spallation Neutron Source SINQ and the Swiss Muon Source SµS. In recent years we have witnessed an increasing number of scientists using both neutrons and X-rays or both neutrons and muons (or other combinations) for the atomic-scale characterization of matter in the broadest possible sense. It is our expectation that JUM@P'09 will stimulate new ideas and new scientific collaborations. We also hope that it helps young scientists to look over the borders of their own discipline. The meeting is a users-for-usersmeeting, i.e. the Users Association SUSA has selected topics and speakers.
We hope to see you and your colleagues at JUM@P'09!
J. Friso van der Veen
on behalf of the Organizing Committee
---
Research highlights
SLS: Advanced phase contrast imaging using a grating interferometer
S.A. McDonald et al, Synchrotron Rad. 16, 562-572 (2009).
Conventional absorption based X-ray microtomography can become limited for objects showing only very weak attenuation contrast at high energies. However, a wide range of samples studied in biology and materials science can produce significant phase shifts of the X-ray beam and thus phase contrast X-ray imaging can provide substantially increased contrast sensitivity. A Differential Phase Contrast (DPC) imaging facility, based on grating interferometry, has been installed at the TOMCAT beamline, with the aim of having a high-throughput of samples in terms of fast data acquisition and post-processing.
Read the full story here
SLS: A fast selenium derivatization strategy for crystallization and phasing of nucleic acid structures
V. Olieric et al, RNAÂ 15(4), 707 (2009)
The growing number of biologically important nucleic acid sequences (DNA and RNA) demands a fast and reliable method for their de novo three-dimensional structure determination. In this work, we describe a fast and inexpensive strategy for the crystallization and phasing of structures of nucleic acid and nucleic acid/protein complexes.
Read the full story here
SINQ: The preparation and structure of salty ice VII under pressure
S. Klotz et al, Nature Materials 8, 405 (2009)
It is widely accepted that ice, no matter what phase, is unable to incorporate large amounts of salt into its structure. This conclusion is based on the observation that on freezing of salt water, ice expels the salt almost entirely as brine. Here, we show that this behaviour is not an intrinsic physico-chemical property of ice phases. We demonstrate by neutron diffraction that substantial amounts of dissolved LiCl can be built homogeneously into the ice VII structure if it is produced by recrystallization of its glassy (amorphous) state under pressure.
Read the full story here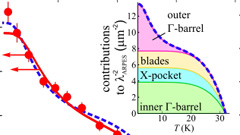 SµS: Two-gap superconductivity in Ba1-xKxFe2As2: a complementary study of the magnetic penetration depth by muon-spin rotation and angle-resolved photoemission
R. Khasanov et al, Physical Review Letters 102, 187005 (2009)
We investigate the magnetic penetration depth λ in superconducting Ba1-xKxFe
2
As
2
(Tc approx 32 K) with muon-spin rotation (µSR) and angle-resolved photoemission (ARPES). The complementarity of µSR and ARPES allows us to pinpoint the values of the two gaps and to arrive at a remarkable agreement between the two techniques concerning the full T evolution of λab. This provides further support for the described scenario and establishes ARPES as a tool to assess macroscopic properties of the superconducting condensate.
Read the full story here
---
News from the SwissFEL-Project
SwissFEL industrial day:
On May 4, 2009 the first industry day relating to the new Swiss Free Electron Laser (SwissFEL) was organized. In collaboration with Economiesuisse, Swissmem, and the WTT consortium W6. Representatives of 140 companies from various high-tech disciplines got a first impression about the requirements for the different machine components for the new SwissFEL project, and were able to see, which kind of future cooperative technical developments related to the new PSI project are possible. See images from the first SwissFEL industry day on:
http://user.web.psi.ch/swissfel/index.html
New calls for proposals
SLS:
Next call for non-PX beamlines on August 8, 2009; deadline on September 15, 2009.
See our call schedule
SINQ:
Next deadline for SINQ beamtime proposals: November 15, 2009.
More information
SµS:
Approximately 40 new proposals were submitted for GPD, GPS and LTF by June 1. Next regular deadline: December 1, 2009.
More information
An overview about all proposal submission deadlines of the PSI facilities can be obtained here.
Upcoming events
July 19-24:
CORPES09, ETH Zurich, Switzerland
International workshop on strong correlations and angle-resolved photoemission spectroscopy.
Registation deadline: July 8, 2009
Information and registration
October 12-13:
Joint User Meeting JUM@P 09
This initiative will bring together the users of the three major facilities at PSI: SINQ, SLS, SµS. JUM@P '09 is a
by users, for users
meeting.
Registration deadline: September 15
Web-information & Registration
JUM@P-Poster
Facility news
SLS: Installation of a higher order suppression at the PolLux scanning transmission x-ray microscope: recently, a higher order suppression (HOS) mirror system has been installed that utilizes MgF2 coated mirrors to suppress photon energies above 600 eV. This improved the spectroscopy capabilities of the beamline, giving access to highest quality carbon, nitrogen, and oxygen spectra even from samples with a high optical density.

SINQ: New improved SINQ target: By various design improvements like a closer rod packing it was possible to increase the neutron flux of the new generation of SINQ target by approximately 40% compared to the previous target. The new target has been in operation since April 15, 2009!

SμS: The experiment control software of the LTF instrument has been migrated to the MIDAS DAQ software developed at PSI running under LINUX. Therefore the SμS user facility now provides a unified user interface for all instruments.

SwissFEL: PSI is presently constructing a flexible 250 MeV injector test facility. For this purpose a 77 m long building dedicated to this machine has been built and delivered to PSI in the beginning of June. The commissioning of the electron source is foreseen by the end of 2009, while the entire 250 MeV injector test facility will be fully operational in autumn 2010. Considering the importance of the electron source for the electron beam quality at high energy, a gun test facility (LEG) is currently in operation at PSI. After observation of first 4 MeV electrons out of the new Diode–RF Gun at LEG in January 2009, the beam quality has been continuously improved. The electron beam brightness has been increased from 0.001 A.mm-2mrad-2to 10 A.mm-2.mrad-2 currently (for a few pC charges).
---
Announcements
PSI-Scientific Report 2008
Please download the online version of PSI's annual scientific report
here
Facility publications
Obtain a comprehensive list of publications sorted by different criteria:
PSI-XFEL project renamed
April 1, 2009 SwissFEL became official member of the European FEL consortium EuroFEL. The consortium is a distributed FEL facility that links complementary national FEL facilities into a unique European Research Infrastructure.
Proprietary research
A certain fraction of the beamtime at PSI research facilities is reserved for proprietary use. This is handled by
Technology Transfer PSI
.
The following
directory
lists services on offer by these facilities.
---
Imprint
PSI Facility News addresses the users of the PSI large facilities and appears quarterly in English. Any feedback is highly welcome!
More information.
Contact:
PSI User Office, Phone: +41-56-310-4666, Email:
useroffice@psi.ch