No. I/09 - 31 March 2009
PSI photon, neutron and muon user facilities newsletter
Editorial
Dear colleagues,
We are proud to present the first issue of the PSI Facility News, an electronic newsletter with issues targeted at the users of the PSI facilities. PSI operates on one campus three major user facilities for research in physics, biology, and chemistry: the Swiss Light Source, SLS, (3rd generation synchrotron), the Swiss spallation neutron source, SINQ, and the Swiss Muon Source, SµS, with a total of approximately 4000 visits from users each year. A combination of these three complementary methods offers new opportunities to perform a full spectrum of analysis on a single site. PSI Facility News will inform you quarterly about recent scientific highlights, upcoming calls for proposals, news and events. We are open to receive your suggestions for the information or topics you would like to see covered in this letter (
slsuo@psi.ch
).
---
Research highlights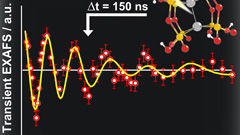 SLS: Exciting heavy metal - Retrieving structures in photocatalysis
Photocatalysts play an important role in a broad range of applications, from photochemical conversion of light into chemical energy through to initiating novel chemical reactions. One family of compounds that has attracted much attention is the dinuclear d8-d8 platinum, rhodium and iridium complexes that have a highly reactive electronic excited state. When photo-excited with light these systems have been shown to extract H-atoms from a variety of substrates and initiate electron transfer processes. In this work we examine the structure of the triplet excited state of a diplatinum member of this photocatalyst family.
Read the full story here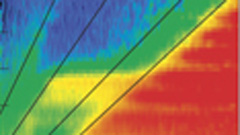 SINQ: Giant superconductivity-induced modulation of the ferromagnetic magnetization in a cuprate-manganite superlattice
(J. Hoppler et al., Nature Materials 8, 315 (2009))
Artificial multilayers offer unique opportunities for combining materials with antagonistic orders such as superconductivity and ferromagnetism and thus to realize novel quantum states. In particular, oxide multilayers allow the combination of the high superconducting transition temperature of cuprates with the versatile magnetic properties of colossal-magnetoresistance manganites. However, apart from some exploratory work, the in-depth investigation of their unusual properties has only just begun.
Read the full story here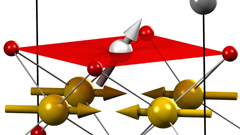 SµS: Iron-based superconductors
The competition of magnetic order and superconductivity is a key element in the physics of all unconventional superconductors. µSR has provided fundamental results about both the ground states and their interplay in the Fe-pnictides. In two independent studies structural and electronic phase diagrams were established. (H. Luetkens et al., Nature Materials 8, 305 (2009) and A. Drew et al., Nature Materials 8, 310 (2009)).
Read the full story here
---
News from the SLS Users Association SUSA
The first joint Users' Meeting of all three major PSI User Facilities (JUM@P 09) will be held on October 12-13, 2009 at PSI. The meeting will be organized in a bottom-up manner so that the users can influence the program by voting on certain workshops.
Please find more information and the registration here
Read more about SUSA
New calls for proposals
SLS:
Next call for the PX beamlines will be launched on May 8, 2009 with the submission deadline on June 15, 2009.
See our call schedule
SINQ:
The next deadline for the submission of beamtime proposals for SINQ will be May 15, 2009, midnight.
More information
SµS:
The next deadline for the submission of beamtime proposals for the three SmS instruments GPS, LTF, and GPD will be June 1, 2009, midnight.
More information
An overview about all proposal submission deadlines of the PSI facilities can be obtained here.
Upcoming events
June 2-4:
International workshop on the spectroscopy and coherent scattering endstation and associated instrumentation at the European XFEL, PSI Villigen, Switzerland
Information and registration
July 19-24:
CORPES09, ETH Zurich, Switzerland
International workshop on strong correlations and angle-resolved photoemission spectroscopy
Information and registration
August 1-7:
PSI Summer School on condensed matter research with a focus on functional materials for energy, environment and health applications.
August 8-10:
20 summer school students will have the opportunity to follow a practical training at the PSI photon, neutron and muon facilities.
Information and registration
October 12-13:
JUM@P 09: First Joint User meeting at PSI: This inititiative will bring together the users of the three major facilities at PSI: SINQ, SLS, SµS.
More information
Facility news
SLS: SIS and ADRESS beamlines have been upgraded and will be fully operational in the second half of 2009.

Two new beamlines, Phoenix and Xtreme, are under construction and will see first light at the end of 2009. Both beamlines are for X-ray absorption spectroscopy, with Phoenix focussing on environmental and materials research, and Xtreme providing measurements under extreme conditions.

SINQ/SµS: Restart of both facilities after the annual accelerator shutdown is expected for April 14, 2009
---
Announcements
Facility publications
Obtain a comprehensive list of publications sorted by different criteria:
Upcoming news from XFEL
Follow the development of the X-ray Free Electron Laser (XFEL) at PSI:
PSI XFEL
Proprietary research
A certain fraction of the beamtime at PSI research facilities is reserved for proprietary use. This is handled by
Technology Transfer PSI
.
The following
directory
lists services on offer by these facilities.
---
Imprint
PSI Facility News addresses the users of the PSI large facilities and appears quarterly in English. Any feedback is highly welcome!
More information.
Contact:
PSI User Office, Phone: +41-56-310-4666, Email:
useroffice@psi.ch