Laboratory for Reactor Physics and Systems Behaviour
The LRS as a laboratory of the Energy and Safety Division (NES) of the Paul Scherrer Institut (PSI) is engaged in both analytical and experimental R&D related to the operation of current and future nuclear power plants. Its strategic goal is to strengthen the sustainability of nuclear power via research along the following two principal lines
Improved understanding of the complex phenomenology of nuclear safety,
Physics of complete fuel cycle closure in the context of plutonium management and waste reduction.
Upcoming LRS events (within a month)
Top
Current news from LRS
22. February 2016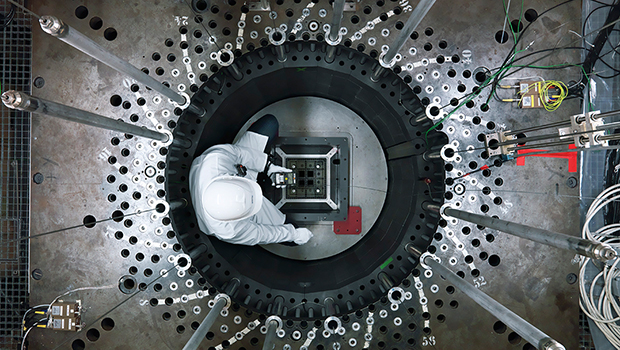 Verschiedenes
Energie und Umwelt
KKW Sicherheit
Start der öffentlichen Auflage für eine Stilllegung der Kernanlage Proteus am Paul Scherrer Institut PSI
Die Kernanlage Proteus ist ein sogenannter Nullleistungsreaktor. Die thermische Leistung des Reaktors war im Betrieb auf maximal 1 kW begrenzt. Das heisst, es handelt sich um einen Versuchsreaktor, der bei so niedriger Leistung betrieben wurde, dass ein Kühlmittel nicht erforderlich war. Proteus ging 1968 in Betrieb. Das PSI möchte die Anlage stilllegen. Das Stilllegungsprojekt wird ab heute in den gesetzlich vorgeschriebenen, amtlichen Publikationsorganen öffentlich bekannt gemacht.
8. October 2015
Energy and Environment
Nuclear Power Plant Safety
Microscopic deviations from the ideal structure render uranium dioxide, the fuel commonly used in nuclear power plants, more resistant to radiation damage.
19. September 2013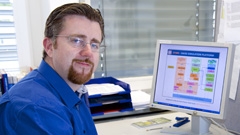 Energy and Environment
Nuclear Power Plant Safety
Without computer simulations, the operation of nuclear power stations would be very difficult. Whether it is a question of installing new components or conducting safety tests, virtually everything has to be calculated and analysed on the computer first. At the Laboratory for Reactor Physics and Systems Behaviour of the Paul Scherrer Institute PSI, computational models and methodologies are developed with precisely this in mind. Through this, PSI researchers also act as an independent partner to the national regulatory authority ENSI and contribute thereby to support safe operation of the Swiss nuclear power plants.
Top