Laboratory for Reactor Physics and Systems Behaviour
The LRS as a laboratory of the Energy and Safety Division (NES) of the Paul Scherrer Institut (PSI) is engaged in both analytical and experimental R&D related to the operation of current and future nuclear power plants. Its strategic goal is to strengthen the sustainability of nuclear power via research along the following two principal lines
Improved understanding of the complex phenomenology of nuclear safety,
Physics of complete fuel cycle closure in the context of plutonium management and waste reduction.
Upcoming LRS events (within a month)
Top
Current News from LRS
10. October 2016
Nuclear Power Plant Safety
At the Paul Scherrer Institute PSI, a small group of scientists is using theoretical models to explore an alternative for future nuclear reactors: so-called molten salt reactors. This helps to secure Switzerland's expertise regarding globally relevant questions in the area of nuclear energy and reactor safety, for today and tomorrow.
22. February 2016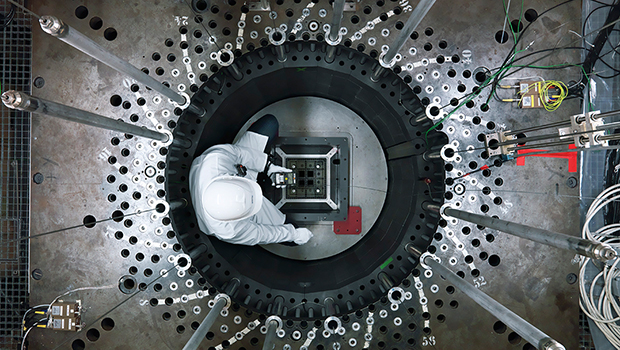 Miscellaneous
Energy and Environment
Nuclear Power Plant Safety
Start of the public examination period for decommissioning of the nuclear facility Proteus at the Paul Scherrer Institute PSI
The nuclear research facility Proteus is a so-called zero-power reactor. In service, the thermal output of the reactor was limited to a maximum of 1 kW. That means this is an experimental reactor that was run at a power level so low that it did not require cooling. Proteus went into service in 1968. The PSI would like to decommission the facility. The decommissioning project is now being publicly announced in the legally prescribed, official publications.
8. October 2015
Energy and Environment
Nuclear Power Plant Safety
Microscopic deviations from the ideal structure render uranium dioxide, the fuel commonly used in nuclear power plants, more resistant to radiation damage.
Top