Polymer Nanotechnology
News and Highlights
6 June 2017
Poster Prize for Marcin Gorzny at the Swiss Nanoconvention 2017
zoom
Marcin Gorzny (second from the left) reveiced one of the three poster prizes at the Swiss Nanoconvention 2017
Dr. Marcin Gorzny, Post-Doc at LMN in the PSI career return program recieved a poster prize at the Swiss Nanoconvention 2017 for his contribution entitled:
"Silicon chip as lipid membrane holder for serial crystallography experiments"
.
4 April 2017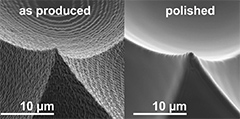 A new method of material modification using 172 nm UV photons enables to fabricate ultra-smooth and self-optimized polymer surfaces. The method, published in Advanced Materials Technologies, was used in the production of high quality micro-optics to remove typical process flaws after a 2-photon-lithography process.
9 March 2017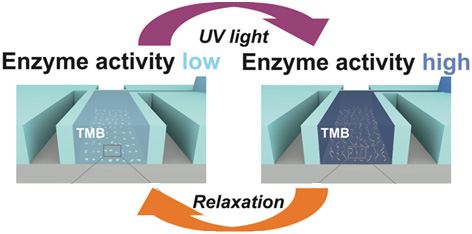 UV- and visible light-induced switching of enzymatic activity has been demonstrated using surface-grafted polymer brushes functionalized with microperoxidase MP-11 and spiropyran mojeties. Integration into an optofluidic device allowed reversible switching of the enzymatic activity under flow.
18 October 2016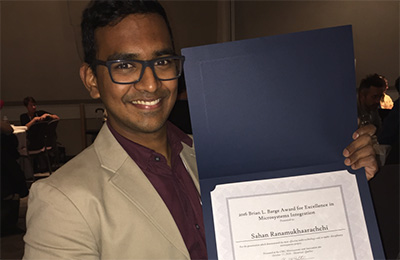 zoom
Award winner Sahan Ranamukhaarachchi
Sahan Ranamukhaarachchi, PhD student from UBC in Vancouver, won the 2016 "Brian L. Barge Award for Excellence in Microsystems Integration" for his work on a biosensing platform with integrated hollow microneedles carried out at PSI in 2015 in collaboration with Dr. Victor Cadarso and Dr. Celestino Padeste.
6 July 2016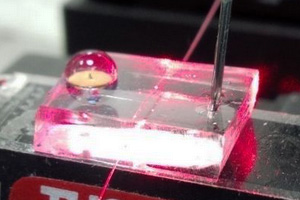 A promising system for painless and minimally-invasive therapeutic drug monitoring has been demonstrated. The proposed device combines biofunctionalized hollow microneedles with an optofluidic system to measure drug concentrations in volumes as small as 0.6 nL.
11. February 2016
Media Releases
Matter and Material
Materials Research
Micro- and Nanotechnology
Researchers at the Paul Scherrer Institute have produced large numbers of detailed models of the Matterhorn, each one less than a tenth of a millimetre in size. With this, they demonstrated how 3-D objects so delicate could be mass-produced. Materials whose surface is covered with a pattern of such tiny 3-D structures often have special properties, which could for example help to reduce the wear and tear of machine parts.
Research Areas
In the polymer nanotechnology group we develop enabling techniques for the patterning of functional surfaces, and use these processes in different research and application fields. Because most of the processes are centered around the nanostructuring of polymers, these activities are strongly linked to the "Institut für Nanotechnische Kunststoff-Anwendungen (INKA)" at the University of Applied Sciences Nordwestschweiz FHNW (founded in 2004). This is particularly important for techniques with the potential for industrial production, such as nanolithography, nanoreplication, and surface functionalization.

Current Research

Earlier research topics

Nanoreplication Process Technology

Nanoimprint Lithography (NIL)
Stamps and molds with high resolution and 3D surface topographies
Antisticking layers for molds and patterning with chemical contrast
---
Applied Projects (in Collaboration with Partners)
Nanoimprint Lithography process development (also known as Hot Embossing Lithography), within the framework of Emerging Nanopatterning Methods development in the EU integrated program NaPa (2004-2008) and the EU large program NaPANIL (2008-2012).
Nanomanufacturing processes for arbitrary 3-dimensional surfaces in the fields of optical components and life sciences
Injection molded polymeric micro cantilevers for biosensing
Antiadhesive coatings for silicon, hybrid organic-inorganic polymers and Nickel
Nanoporous chips for investigation of bio-membrane transport
Surface patterning of polymers and antiadhesive coatings
Variotheral injection molding, roll embossing and thermoforming

These activities are strongly linked to the "Institute for Polymer Nanotechnology" / "Institut für Nanotechnische Kunststoff-Anwendungen (INKA)", a joint institute with the University of Applied Sciences and Arts Nordwestschweiz FHNW.
---
Research Partners
Joint European projects with partners in the EU-FP6 Integrated Project "NaPa" Emerging Nanopatterning Methods (2004-2008) and "NaPANIL" (2008-2012)
Collaborations in the CNMM programme with partners in Korea (2008-2012)
Applied projects with industrial partners in the framework of CTI, NCCR and NanoArgovia
Center for Cellular Imaging and NanoAnalytics Biozentrum, University of Basel
Laboratory for Surface Science and Technology (LSST), Department of Materials, ETH Zürich
BIOMAT - Biomaterials and Tissue Engineering Research Laboratory, METU, Ankara
Partners in PSI
Competencies for Partnership in Research Projects
Thermal nanoimprint lithography up to 180 mm wafer size, UV up to 150 mm wafer size with experience in process development, polymer rheology and applications
Stamp manufacturing using e-beam lithography
Antiadhesive coatings for imprint and injection molding using silane chemistry
Fabrication of micro- and nanostructures for microfluidics, optics and surface topography