Mobile Smog Chamber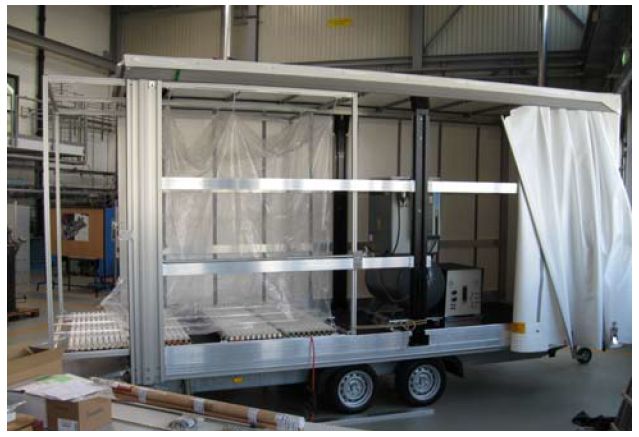 zoom
The mobile chamber can be mounted on a trailer for transport and for sampling ambient air.
Overview
The traditional smog chamber is only as useful as the instruments to which it is connected. Furthermore ambient sampling is limited to the immediate locality. The mobile smog chamber has been constructed to overcome these limitations: we take the smog chamber to the emissions. Specific projects and questions addressed so far and at present include: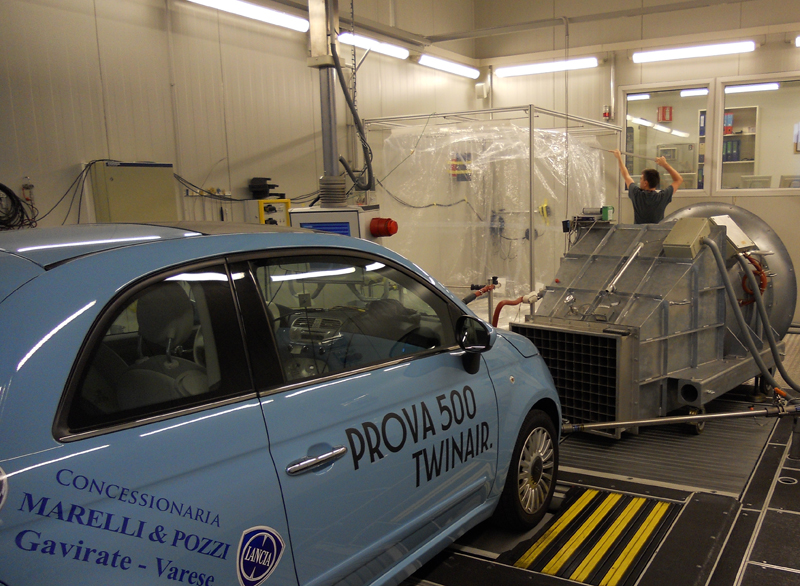 zoom
Using the mobile smog chamber to investigate primary aerosol emissions and secondary aerosol formation from a gasoline car at the European Union Joint Research Centre (JRC) Vehicle Emissions Laboratory, 2011.
Technical Description
The mobile chamber is constructed with flexibility in mind. It consists of 9m3 Teflon bag hung on an aluminum frame together with a battery of 40 100W UV lights (Ergoline, Cleo Performance solarium lamps). Connected to the chamber is a separable control unit consisting of a pure air generation system (737-250 series, AADCO Instruments, Inc., USA) and inlet lines for gaseous components (NO, NO2, O3, H2O, organic compounds). All of these units may be mounted on a trailer for transport or ambient studies, or dismounted and deployed in various configurations.

Relative humidity in the mobile chamber can be adjusted rapidly and accurately to anywhere between 0-90%. When operated independently of the transport trailer, the temperature is determined by the capabilities of the host facility; experiments have so far been conducted in the range -7 to 25 °C.

Injection of aerosol into the smog chamber is powered by a heated ejector dilutor (Dekati Ltd, Tampere, Florida) and sampling lines. Again, flexibility is important and the heated inlet lines are built up of a number of individual heated segments allowing operation of the smog chamber at different distances to the emissions source.

The core instrumentation for aerosol characterization includes the aerosol mass spectrometer (AMS), the aethalometer and the multi-angle absorption spectrometer (MAAP). For measurements of CO, CH4, CO2 and H2O we use the Picarro G2401 cavity ring-down spectrometer. The total hydrocarbon is measured with the HORIBA APHA 370 total hydrocarbon analyzer. Additional state of the art instruments may be available at host facilities.
Media Release
PSI Media Release
Media Echos (various languages)
Publications
Two-stroke scooters are a dominant source of air pollution in many cities
Stephen M. Platt et al, Nature Communications, 13 May 2014
doi: 10.1038/ncomms4749 Link to Article

Secondary organic aerosol formation from gasoline vehicle emissions in a new mobile environmental reaction chamber
Stephen M. Platt et al, Atmospheric Chemistry and Physics, 13, 9141-9158, 2013
doi:10.5194/acp-13-9141-2013 Article

Effects of alkylate fuel on exhaust emissions and secondary aerosol formation of a 2-stroke and a 4-stroke scooter
Alessandro Zardini et al, Atmospheric Environment, 94, 307-315, 2014
doi: 10.1016/j.atmosenv.2014.03.024 Link to Article