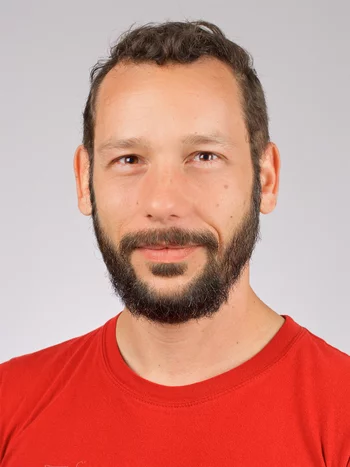 Paul Scherrer Institute
Forschungsstrasse 111
5232 Villigen PSI
Switzerland
Biography
Since 2018 Cristian Svetina is a beamline scientist at FURKA experimental station at Athos-SwissFEL. He got his Bachelor Degree in physics and his Master Degree in Astrophysics from Università degli Studi di Trieste. His PhD in Nanotechnology (Graduate School of Nanotechnology, Università degli Studi di Trieste), was focused on designing new experimental instrumentation for the Free Electron Laser (FEL) FERMI in Trieste. He was scientist at FERMI FEL from 2007 to 2016 and between 2017 and 2018 joined the Bernina team as a post-doc.
Institutional Responsibilities
Cristian Svetina is responsible for the design and installation of the upcoming experimental station Furka (LAP) at the soft X-ray beamline Athos at SwissFEL.
Scientific Research
His research is currently focused on several cutting edge topics in condensed matter and FEL science. Ultra-fast dynamics studies and control of strongly correlated systems and hetero-structures studied by resonance elastic and inelastic X-ray scattering (REXS-RIXS) with Free Electron Lasers (FELs) is one of the main interests at Furka experimental station. In parallel, development of Nonlinear X-ray spectroscopy techniques at FELs is an important topic which is under development. Finally, the design of new instrumentation for extending the scientific capabilities of SwissFEL is an important part of his research.
Selected Publications
For an extensive overview we kindly refer you to our publication repository DORA.
Towards X-ray transient grating spectroscopy, C. Svetina, R. Mankowsky, G. Knopp, F. Koch, G. Seniutinas, B. Rösner, A. Kubec, M. Lebugle, I. Mochi, M. Beck, C. Cirelli, J. Krempasky, C. Pradervand, J. Rouxel, G. Mancini, S. Zerdane, B. Pedrini, V. Esposito, G. Ingold, U. Wagner, U. Flechsig, R. Follath, M. Chergui, C. Milne, H. Lemke, C. David, P. Beaud, Optics Letters 44(3), 574-577 (2019). https://doi.org/10.1364/OL.44.000574
Experimental station Bernina at SwissFEL: condensed matter physics on femtosecond time scales investigated by X-ray diffraction and spectroscopic methods, G. Ingold, R. Abela, C. Arrell, P. Beaud, P. Böhler, M. Cammarata, Y. Deng, C. Erny, V. Esposito, U. Flechsig, R. Follath, C. Hauri, S. Johnson, P. Juranic, G. F. Mancini, R. Mankowsky, A. Mozzanica, R. A. Oggenfuss, B. D Patterson, L. Patthey, B. Pedrini, J. Rittmann, L. Sala, M. Savoini, C. Svetina, T. Zamofing, S. Zerdane, H. T. Lemke, Journal of Synchrotron Radiation, 26(3), 874-886 (2019). https://doi.org/10.1107/S160057751900331X
Coherent control with a short-wavelength free-electron laser, KC Prince, E Allaria, C Callegari, R Cucini, G De Ninno, S Di Mitri, B Diviacco, E Ferrari, P Finetti, D Gauthier, L Giannessi, N Mahne, G Penco, O Plekan, L Raimondi, P Rebernik, E Roussel, C Svetina, M Trovò, M Zangrando, Matteo Negro, P Carpeggiani, M Reduzzi, Giuseppe Sansone, AN Grum-Grzhimailo, EV Gryzlova, SI Strakhova, K Bartschat, N Douguet, J Venzke, D Iablonskyi, Y Kumagai, T Takanashi, K Ueda, Andreas Fischer, M Coreno, F Stienkemeier, Y Ovcharenko, T Mazza, M Meyer, Nature Photon 10, 176–179 (2016). https://doi.org/10.1038/nphoton.2016.13 (Affiliation Elettra-Sincrotrone Trieste S.C.p.A., S.S. 14 km 163,5 in Area Science Park, I-34012 Basovizza, Trieste, Italy)
Four-wave mixing experiments with extreme ultraviolet transient gratings, F Bencivenga, R Cucini, Flavio Capotondi, A Battistoni, R Mincigrucci, E Giangrisostomi, A Gessini, M Manfredda, IP Nikolov, E Pedersoli, E Principi, C Svetina, P Parisse, F Casolari, MB Danailov, M Kiskinova, C Masciovecchio, Nature 520, 205–208 (2015). https://doi.org/10.1038/nature14341 (Affiliation Elettra-Sincrotrone Trieste S.C.p.A., S.S. 14 km 163,5 in Area Science Park, I-34012 Basovizza, Trieste, Italy)
Highly coherent and stable pulses from the FERMI seeded free-electron laser in the extreme ultraviolet, E Allaria, Roberto Appio, L Badano, WA Barletta, S Bassanese, SG Biedron, A Borga, E Busetto, D Castronovo, P Cinquegrana, S Cleva, D Cocco, M Cornacchia, P Craievich, I Cudin, G D'auria, Massimo Dal Forno, MB Danailov, R De Monte, G De Ninno, P Delgiusto, Alexander Demidovich, S Di Mitri, B Diviacco, A Fabris, R Fabris, W Fawley, M Ferianis, Eugenio Ferrari, S Ferry, L Froehlich, P Furlan, G Gaio, F Gelmetti, L Giannessi, M Giannini, R Gobessi, Rl Ivanov, E Karantzoulis, M Lonza, A Lutman, B Mahieu, M Milloch, SV Milton, M Musardo, I Nikolov, Salvatore Noe, Fulvio Parmigiani, Giuseppe Penco, M Petronio, L Pivetta, M Predonzani, F Rossi, L Rumiz, A Salom, C Scafuri, C Serpico, P Sigalotti, S Spampinati, C Spezzani, M Svandrlik, C Svetina, S Tazzari, M Trovo, R Umer, A Vascotto, M Veronese, R Visintini, M Zaccaria, D Zangrando, M Zangrando, Nature Photon 6, 699–704 (2012). https://doi.org/10.1038/nphoton.2012.233 (Affiliation Elettra-Sincrotrone Trieste S.C.p.A., S.S. 14 km 163,5 in Area Science Park, I-34012 Basovizza, Trieste, Italy)
Books
Optical technologies for extreme-ultraviolet and soft X-ray coherent sources, Marco Zangrando, Nicola Mahne, Lorenzo Raimondi, Cristian Svetina, Part of the Springer Series in Optical Sciences book series (SSOS, volume 197), 2015, Berlin, ISBN: 9783662474426