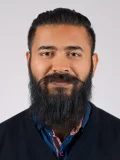 PhD student
Multiscale Materials Modelling Group >>
Building/Room: OHSA/D06
Paul Scherrer Institute
Forschungsstrasse 111
5232 Villigen PSI
Switzerland
---
Projects
Participation in WP5 of the Horizon 2020 project SOTERIA, since Feb 2018
Curriculum Vitae
Academic Education
Master's degree, Nuclear Science and Technology, Chalmers University of Technology, Göteborg, Sweden, September 2015 - October 2017.
Master's thesis, Radiation displacement cascade modelling, KTH Royal Institute of Technology, Stockholm, Sweden, February 2017 - October 2017.
Bachelor's degree, Mechanical Engineering, KPR Institute, India, September 2009 - May 2013.
Employment History
PhD student, Multiscale Modelling Group, Laboratory for Scientific Computing, Paul Scherrer Institute, Switzerland, Since February 2018.
Project Engineer, TVS Motor Company, Hosur, India, October 2013 - June 2015.
Publications