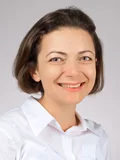 Postdoc
Multiscale Materials Modelling Group >>
Building/Room: OHSA/D06
Paul Scherrer Institute
Forschungsstrasse 111
5232 Villigen PSI
Switzerland
---
Projects
INSPYRE DFT modelling of extended defects in UO2
Visiting Scientist, Novartis Basel, September - December 2018
Curriculum Vitae
MonicaKosa_CV.pdf
Academic Education
2001-2007 Ph.D. – Chemistry, Technion. Haifa, Israel, Excellence scholarship. Supervisor: Prof. Y. Apeloig. Thesis title: Theoretical Studies of Silicon and Metallasilicon Compounds.
1998-2001 B.Sc. – Chemistry, Technion, Haifa, Israel, President (twice) and Dean (twice) lists.
Employment History
August 2017 - now PSI-Marie-Skłodowska-Curie Fellow Department of Nuclear Energy and Safety,Paul Scherrer Institut, PSI, Villigen, CH
December 2015 - June 2017 Head of the Computational Chemistry Unit, Chemistry Faculty, Technion, Haifa, Israel
March 2016 - June 2017 Part time Researcher, Chemistry Department, Tel Aviv University, Israel
November 2011 - November 2015 Researcher, partially as a postdoctoral fellow, Bar-Ilan University (BIU), Ramat Gan, Israel.
February 2007- August 2010 Postdoctoral associate, ETH Zurich, Switzerland.
Publications