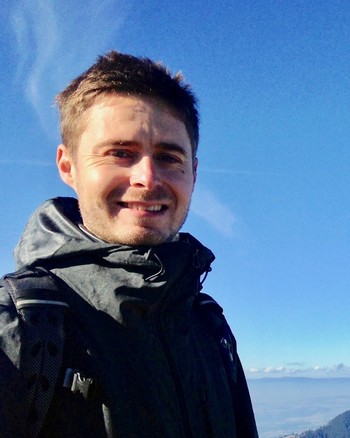 Paul Scherrer Institute
Forschungsstrasse 111
5232 Villigen PSI
Switzerland
---
Biography
Joe Bailey is a post-doc in the Quantum Technologies group. His undergraduate degree was a BSc in Physics and Philosophy from Leeds University in the UK, he followed this with an MSc in Modelling Biological Complexity and a PhD studying nanophotonic biosensing from University College London. Following his PhD he spent 6 months working at a microfluidics start-up, Sphere Fluidics (Cambridge, UK) where he developed test and measurement software as well as contributing to hardware R&D on their Cyto-Mine single cell analysis system. At the end of 2016 Joe joined the Quantum Technologies group as a postdoc working on THz spectroscopy and nonlinear magnonics, in 2017 he was awarded an EPFL MSCA fellowship, continuing at PSI as a guest scientist. 
Institutional Responsibilities
Delivery of advanced microwave driving capabilities via the SNSF R'Equip project "Microwaves for coherent control of quantum matter and magnonic devices"
Scientific Research
Nanotechnology and device physics. I am interested in harnessing the powers of micro and nanoscale device fabrication, and the new physical phenomena that such devices provide access to. Applications for such devices are diverse, from biosensing and diagnostics to data storage and quantum computation. I have previously worked on photonic and microfluidic devices, primarily aimed at life science applications but am currently studying non-linear magnonics, high-speed (THz) magnonics and quantum magnonics. In particular I use x-ray magnetic imaging techniques and nanoscale devices to better understand the physics that underpin them and demonstrate new applications.
Selected Publications
For an extensive overview we kindly refer you to our publication repository DORA or Google Scholar. 
Direct observation of coherent magnons with suboptical wavelengths in a single-crystalline ferrimagnetic insulator. Förster, J., Gräfe, J., Bailey, J., Finizio, S., Träger, N., Groß, F., … Wintz, S. (2019). Physical Review B, 100(21), 214416 (7 pp.). https://doi.org/10.1103/PhysRevB.100.214416
Nanoscale X-ray imaging of spin dynamics in yttrium iron garnet Förster, J., Wintz, S., Bailey, J., Finizio, S., Josten, E., Dubs, C., … Schütz, G. (2019). Journal of Applied Physics, 126(17), 173909 (11 pp.). https://doi.org/10.1063/1.5121013
Surface mediated cooperative interactions of drugs enhance mechanical forces for antibiotic action. Joseph W Ndieyira, Joe Bailey, Samadhan B Patil, Manuel Vögtli, Matthew A Cooper, Chris Abell, Rachel A McKendry, Gabriel Aeppli. Scientific Reports, 7, 21206. (2017) https://doi.org/10.1038/srep41206
Separation of blood cells with differing deformability using deterministic lateral displacement Duke, T., Holmes, D., Whyte, G., Bailey, J., Vergara-Irigaray, N., Ekpenyong, A., & Guck, J.Interface Focus, 4(6), 20140011–20140011. . (2014)
Absorption modulation of terahertz metamaterial by varying the conductivity of ground plane. Wen, Y., Ma, W., Bailey, J., Matmon, G., Aeppli, G., & Yu, X. Applied Physics Letters, 105(14), 141111. (2014)