Media Releases
Media releases of the current year.
Please found information for media representatives at our
media corner.
Please note: Not every news release has been translated into English.
6. March 2014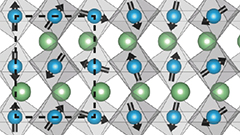 Media Releases
Research Using Synchrotron Light
Materials Research
Matter and Material
SwissFEL
Researchers from ETH Zurich and the Paul Scherrer Institute PSI demonstrate how the magnetic structure can be altered quickly in novel materials. The effect could be used in efficient hard drives of the future.
24. February 2014
Media Releases
Large Scale Facilities
Research Using Muons
Research Using Neutrons
Particle Physics
Matter and Material
Materials research, particle physics, molecular biology, archaeology – for the last forty years, the Paul Scherrer Institute's large-scale proton accelerator has made top-flight research possible in a number of different fields.